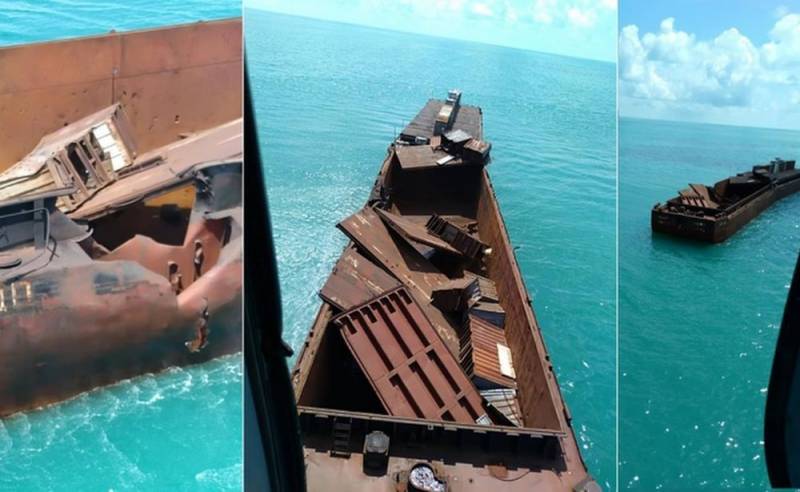 On June 17, 2020, Ukraine tested the anti-ship missile R-360 for the PKK RK-360MTs "Neptune" with a standard warhead. The Ukrainian side showed the consequences of a missile entering a target ship.
Volley launch of a pair of missiles was carried out from a ground launcher at the Alibey Armed Forces training ground in the Odessa region for two naval targets that were 80 km from the coast. It is reported that both targets were hit, and the tests were considered successful.
This was the final stage of the whole complex of tests of the Neptune complex, where we worked with military products. The test conditions for the whole complex were different. Temperature, external fluctuations, meteorological conditions. Checked the operation of communication at the complex, flight task of the product and the like.
- said the general director of GKKB "Luch" Oleg Korostelev.
He specified that the enterprise he heads is ready to begin mass production of these complexes for the Armed Forces.
The issue of arming is already a more legal and bureaucratic issue, which depends on the general customer
- explained Korostelev.
He added that GKKB "Luch" has already begun work on new modifications of this sea and air-based complex.
It should be noted that before this firing P-360
were conducted
with training warhead. Only in April 2020, an active radar homing head developed by Radionics LLC appeared on the R-360.
After that, on June 5, 2020, the head of the Pavlogradsky Chemical Plant NPO Leonid Shiman announced that it was planned to adopt three divisions of soil mobile complexes RK-360MC Neptune. This company manufactures solid fuel boosters for the P-360. At the same time, in the first quarter of 2020, the indicated enterprise was forced to lay off 687 of its employees due to the lack of state financing.