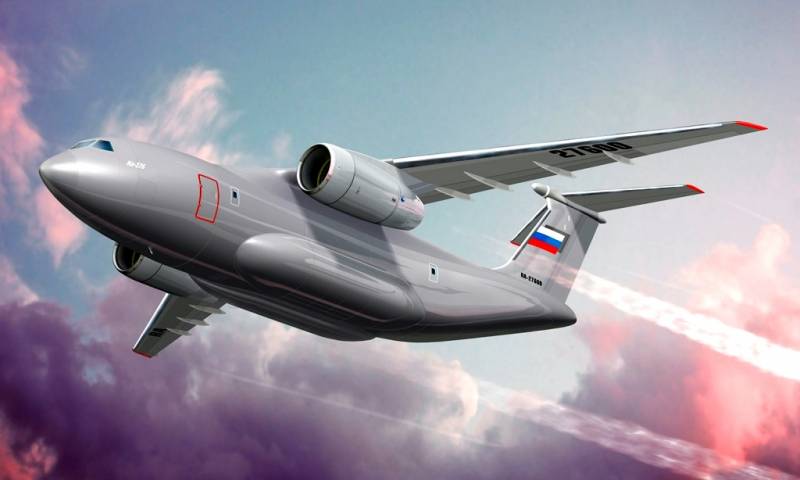 Domestic IL-276 finally completes its long and thorny journey. The Ministry of Defense of the Russian Federation chose it as a medium military transport aircraft. In 2023, the machine will begin to pass state tests, and from 2029 its serial production will begin with the prospect of reaching a pace of 12 units per year.
The need for a new military transport in our country arose in the late 80s. However, there was simply no money to create a car from scratch.
Russia found a way out of this situation in cooperation with India, which supposedly also needed airplanes to transport cargo. So, in 2001 a joint venture was created. Financing was undertaken by India, but as repayment of debts to the USSR.
As it turned out later, the Russian "partner" pursued its own goal, which was to gain experience in the design of complex structures, rather than creating an aircraft. Thus, having received the desired, India withdrew from cooperation in 2015 without explanation. Such a step, however, has benefited Russia itself.
Freed from the "unreliable" partner, KB Ilyushin continued to work on a promising transporter, focusing on tasks that are of interest to the Russian Ministry of Defense. The Hindus put forward very specific requirements to the new aircraft, which did not always coincide with ours. As a result, the IL-276 was developed specifically for the Russian Aerospace Forces, which occupied a niche between the light IL-112 and heavy IL-76.
Today, the aircraft project exists in 4 versions: an airborne transport carrier, a hospital, a communications point and an air tanker. The machine is capable of taking on board up to 150 paratroopers in full gear or up to 20 tons of payload. The maximum flight range of the IL-276 reaches 7 thousand km, the ceiling is up to 12100 meters, the cruising speed is 800 km / h, and the maximum - up to 870 km / h.
In the near future, the PS-90 engine is planned to be replaced with the latest PD-14. The service life of the machine is 35 years and allows you to make 24 thousand sorties.
At the same time, the maximum cost of creating a production car reaches $ 17 million, which is as much as 53 million cheaper than the release of the American competitor C-130J.