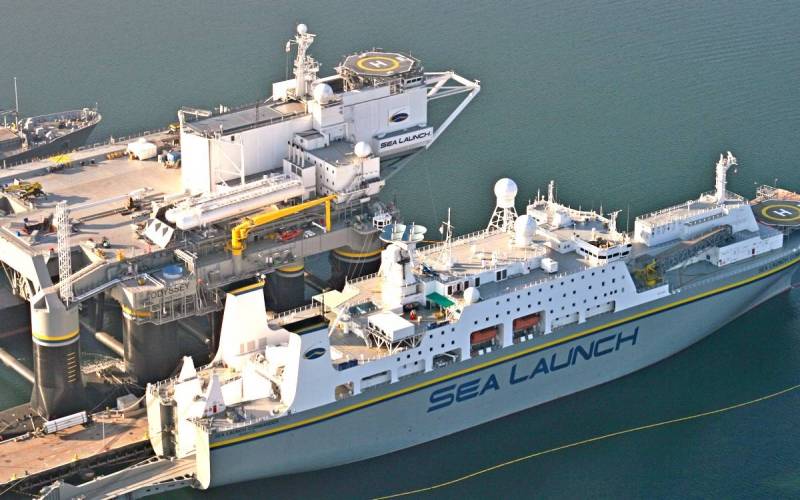 The floating launch site Sea Launch will not be sold to Rosatom. State corporations argued their refusal of the transaction, highlighting as many as five reasons for the unprofitability of such an acquisition.
The first concerns the inexpediency of building a unified information and space monitoring system for the Arctic zone using this complex. To implement the project until 2032, it is necessary to launch 19 satellites. It turns out that a maximum of 2 devices per year. In order for Sea Launch to at least achieve self-sufficiency, at least 4 launches per year will be required.
It would be possible to solve the first problem by attracting third-party customers. However, this option is also unpromising, since Rosatom does not have the relevant competencies, and hundreds of accident-free launches are needed to obtain them. At the same time, the floating spaceport is designed for no more than 6 launches per year.
The third reason in the state corporation called the senselessness of attempts to compete with Roscosmos. In this case, all that Rosatom can count on is launches "based on the residual principle".
Ilon Musk also added fuel to the fire with his reusable missiles, which significantly reduced the cost of launching carriers in the commercial market. To take its place in the niche, Rosatom will have to invest heavily in creating a new competitive rocket.
And finally, the fifth argument for canceling the deal is that Sea Launch has already accumulated a lot of debts that require repayment. As a result, the potential cost of buying a floating spaceport can increase significantly.
Recall that last week in a number of media it was reported that S7 was negotiating with Rosatom on the sale of the Odyssey platform and the assembly and command ship Sea Launch due to lack of funding for further development of the project. However, already at the beginning of this week it became known that the "saving" transaction for the complex would not take place. Now, bought for $ 150 million and relocated from the US to Russia, a floating spaceport, at best, awaits "conservation" for an indefinite period.