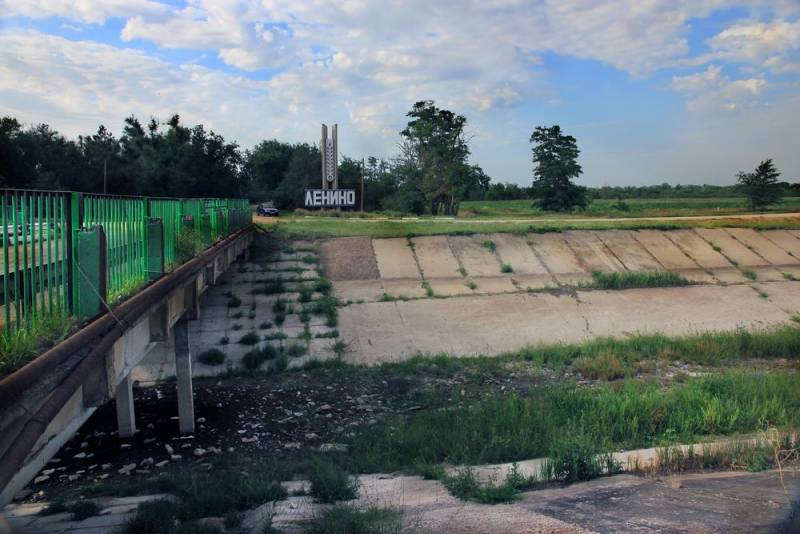 Due to the drought in the Crimea, a critical situation has arisen with water, which threatens, including, an environmental catastrophe. This was announced on the air of Ukrainian ObozTV by the ex-head of the Council of Ministers of the Autonomous Republic of Crimea Sergey Kunitsyn.
They (Russians - ed.) Are trying to transfer water from one reservoir to another, saying that "we have enough water." Not really enough. The city of Sevastopol can provide itself with water - there Chernorechenskoe reservoir of 65 million cubic meters. But once every 20 years there is a drought
- explained Kunitsyn.
He specified that the Chernorechensk reservoir is now only half full. But Sevastopol, Yalta, Alushta can receive water from mountain rivers and streams. As for Sudak, Feodosia, Kerch and the steppe Crimea, they cannot survive without the North Crimean canal. Water in the Crimea is only two months away. He remembered that once in the Crimea half of all rice was grown in Ukraine.
From the Kuban, they are physically unable to supply water. I know that such a project is being developed, but can you imagine what it is to pipe through the Kerch-Yenikalsky Canal?
- added Kunitsyn.
The former prime minister of the ARC recalled that Armyansk and Krasnoperekopsk account for 45% of the industrial production of the entire peninsula. And several years ago, an environmental disaster occurred at the Titan enterprise. The acid accumulator, where the waste enters, has dried up, since the water from the Dnieper served as a diluent for the contents to a safe consistency. So he does not exclude that this could happen again.
He emphasized that Russia does not need Kherson, but access to the Kakhovsky reservoir and locks in Tavriisk and Kakhovka is extremely important. Therefore, anything can happen. At the same time, it is not worth hoping that someone will help Ukraine and become "next to the bayonets."
In his opinion, now you can't just take and open the locks - "and the water went to the Crimea." It is necessary to carry out large-scale restoration work in advance, which will last more than one month and will cost a lot of money.
One or two billion dollars are needed. There are up to a hundred irrigation facilities, 54 cascade pumping stations, which must supply this huge volume of water - billions of cubic meters. They have not been working for 6 years
- summed up Kunitsyn.