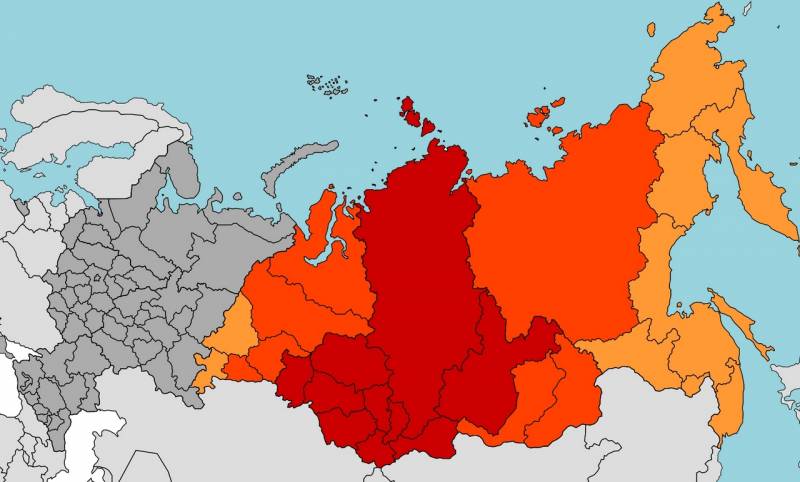 For a century, Washington is not indifferent to the natural wealth of Russia. At the beginning of the twentieth century, after the collapse of the Russian Empire, the United States took part in
interventions
against young Soviet Russia, and at the end of the century they planned to buy Siberia altogether.
The idea of ​​acquiring Siberia was widely discussed and covered in the media of the United States and Europe in the early 1990s. The mighty Soviet Union was gone, and modern Russia was still weak. Therefore, the Americans were not very shy and then behaved as unceremoniously and busily as they are now in relation to Greenland.
In 1992, an American scientist, senior
political
Advisor to the US Institute for World Politics, Walter Russell Mead, presented to the White House a project to buy Siberia from Russia. In 1994, Mead published an article "Let's Buy Siberia" (Geografic Questions "Geography Issues"), in which he explained to the public why the United States needs Siberia and what it is important for every ordinary American. He argued that Washington should buy "everything that lies east of the Ural Mountains."
The approximate cost of the Russian region was calculated. According to the calculations of the Americans, Siberia, with all its resources and infrastructure, cost about $ 3 trillion, i.e. $ 1 thousand per acre (0,4 hectares). Moreover, no one was going to give money right away. It was planned to allocate them portionwise. That is, the Americans wanted to buy Siberia by installments, annually paying Moscow $ 200 billion. Russians were obliged to spend half of this amount on the purchase of American goods.
Purchased Siberia was proposed to be divided into 7 states. At the same time, "Russian-speaking Slavs", 90% of Siberians, were to obtain US citizenship and the right to use their native language. As for the "non-Russian minority" of Siberia, it was planned to do with it the same way as with the indigenous inhabitants of the USA - the Indians.
The Russian segment of the Internet reacted differently to such ideas from the United States.
The impudence of the Americans is no limit. Then give them Alaska, then Greenland, then Siberia. They think that everything and everyone can be bought for money. Okay, we sold them Alaska ourselves, although, to be honest, they forced us to do it. But Siberia? Knowing Yeltsin and his whole gang, they could very well have sold. If not all that part for sure!
- indignant a certain Larisa G.
I apologize, but haven't I already bought everything? TOPs (territory of advanced development - ed.), Banking sector. The so-called assets and liabilities of the oligarchy legally in the area of ​​Anglo-Saxon law
- considers Mikhail Motyrev.
RUSAL has already been bought, and with it several hydropower stations in Siberia. Through the TOR, they will buy up everything they want, and our government, headed by Putin, will gladly help them in this matter
- Victor Golubev echoes him.
Yes ... In the 90s, they could derban as they wanted. The country was on the verge of collapse, a parade of sovereignty. "Take as much democracy as you can swallow." All of this could end very sadly
- writes one of the readers of a major Russian publication.
Just like Hitler! He also wanted, but in a different way. America is like Satan: he buys souls, and these are countries
- Vera Tsyglyaeva made an analogy.
They were late with Siberia ... Specifically, with the Khanty-Mansi Autonomous Okrug (Khanty-Mansiysk Autonomous Okrug - approx.ed). There is no work, only the shift method in foreign companies. The local population lives in poverty. Ob dirtied. Firewood for stoves is "golden". Sadly ...
- writes a certain Svetlana Mingaleva.