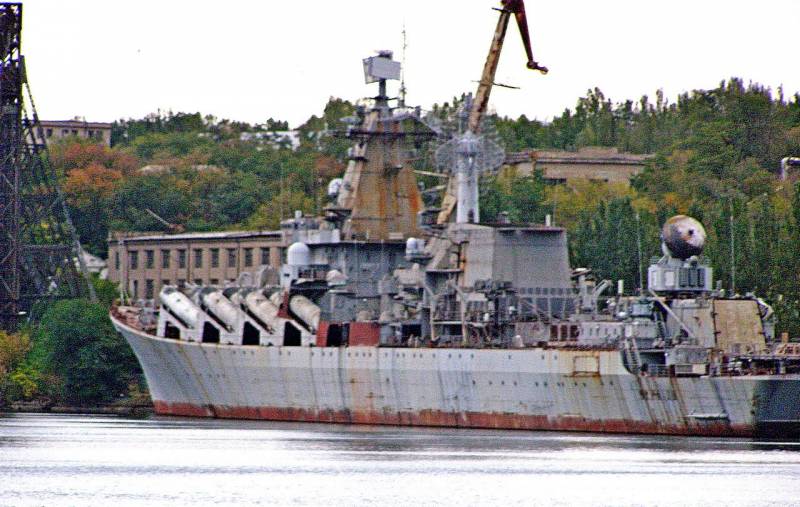 Five years ago, the then president of Ukraine Petro Poroshenko broke off the agreement with Russia of 1993 on the joint resolution of issues regarding military facilities that were unfinished at the time of the collapse of the USSR. One of such monuments of the past era was the Soviet "unfinished" - the cruiser "Ukraine". The authorities of the country, due to lack of funding, could not surrender the warship. There was not enough money to maintain the cruiser.
At one time, the ship was planned to be sold to China or India, but the deal did not take place.
"Ukraine" was laid back in 1984, and by 1993 it was transferred to Kiev - at that time the construction of the ship was completed by three quarters. In 1998, under Kuchma, the cruiser's readiness was 95%. There was also the possibility of selling the ship to Russia, but buyers were not satisfied
technical
cruiser condition and sale price, and the ship remained on the balance of the Ukrainian fleet.
Military expert Taras Chmut made a proposal to sink the cruiser, while experiencing the latest domestic anti-ship complex
RK-360MTS "Neptune"
. Another goal of the venture is to find out the weaknesses of the cruiser of the Russian Black Sea Fleet
"Moscow"
- Both ships were built in due time according to one project 1164 Atlant.
Before drowning, it is proposed to remove all combat-ready equipment from Ukraine for its further use on other warships of the Ukrainian fleet.