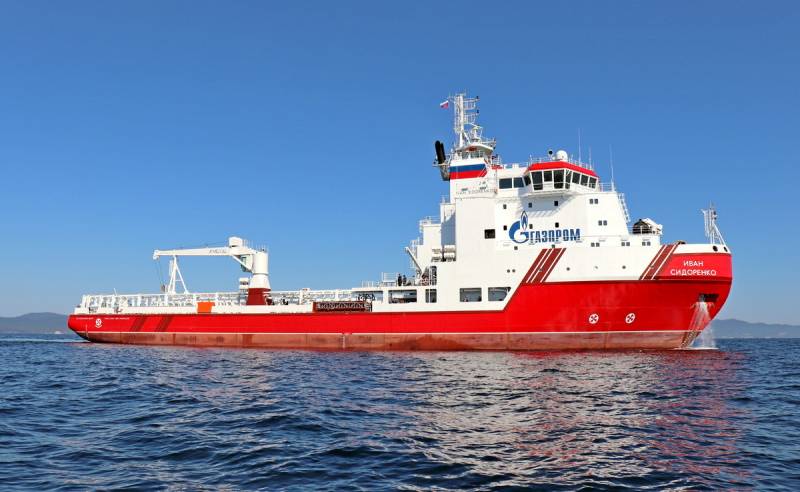 Ships that finish the construction of the Nord Stream-2 gas pipeline follow the shortest route to the Baltic - through the Suez Canal and the Mediterranean. This way is also convenient for escort vessels of the Black Sea Fleet, which have secured the supply ships Ivan Sidorenko and Ostap Sheremet off the coast of Sri Lanka.
According to the navigation portal Vesselfinder, on Sunday, June 14, both ships entered the waters of the Red Sea and sailed between Yemen and Eritrea at a speed of 10 knots. To this place from Sri Lanka, water transport moved about 10 days.
The supply vessels are guarded by two ships of the Russian Navy - the rescue tug "Professor Nikolai Muru" and the frigate "Admiral Grigorovich." Both warships are constantly stationed in Sevastopol, and before sailing to the Indian Ocean they were on guard off the Syrian coast. Completion ships need to be guarded, first of all, during the passage of the Gulf of Aden, since here attacks of Somali pirates still occur.
While maintaining the same speed, Ostap Sheremet and Ivan Sidorenko will reach their destination in the Baltic Sea by early July. Ships proceed to the German port of Mukran, where the pipelayers of the gas pipeline under construction - Academician Chersky and Fortuna are located there.
US authorities threaten to impose sanctions on participants in the construction of Nord Stream-2, and both supply vessels are among them - this indirectly confirms that Ostap Sheremeta and Ivan Sidorenko will be engaged in the completion of SP-2.