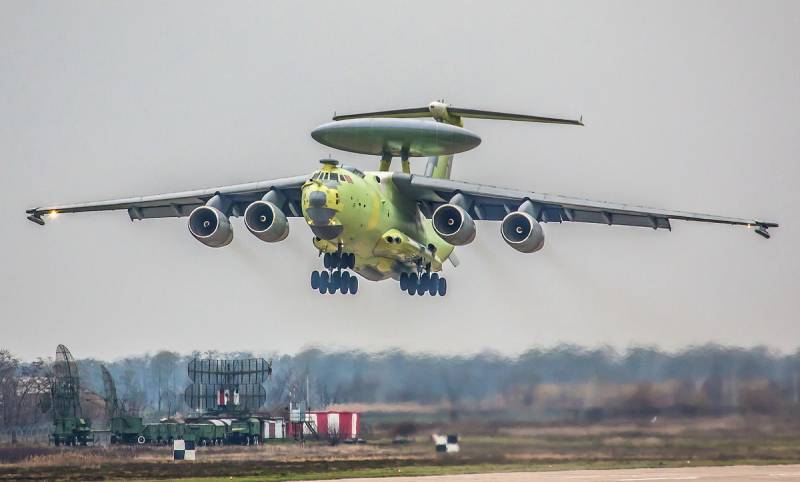 The A-100 Premier long-range radar detection aircraft is undergoing a test program in accordance with the established schedule and will be operational in 2024. This was reported on the eve of the Ministry of Defense of the Russian Federation.
Despite the fact that the machine, which is both a mobile locator, an operational command headquarters, and a tactical command center, is strictly classified, something is still known about the Premiere.
To begin with, the A-50, created on the basis of the IL-76 and entered service in 1984, became the first such device in domestic aviation. The aircraft could "see" high-altitude objects at a distance of 600 km, and low-flying and surface - at a distance of 400 km. In addition, the machine could simultaneously hold up to 60 targets and direct them to 12 fighters.
However, no matter how good the Soviet aircraft was, by its characteristics it was about a quarter inferior to a similar NATO apparatus - AWACS E-3A AWACS, which is still used in the US Armed Forces.
Thanks to a deep modernization of electronics, in the USSR it was planned to catch up with the "opponent" by 1987. However, Russia managed to realize the plan already and only in 2011. The A-50U aircraft increased the detection range of high-altitude objects to 700 km, learned how to conduct passive location in real time, hold up to 300 targets and direct up to 70 fighters or 80 missiles at them.
However, our country did not stop there. The developers of the new aircraft say that in terms of its characteristics, Premier is 25-30% superior to its predecessor. Therefore, some conclusions can be drawn from this. In particular, the fact that the detection range of the new machine can grow up to 1000 km, the number of escorted targets - up to 400, and guided weapons - up to 100, which is already greater than the AWACS with its 40 fighters.
We add here the ability to detect small drones and underground bunkers, the ability to work on satellite data, the presence of new electronic warfare equipment, as well as passive and active protection. As a result, we get an excellent machine that will significantly improve the quality of the overall intelligence structure.