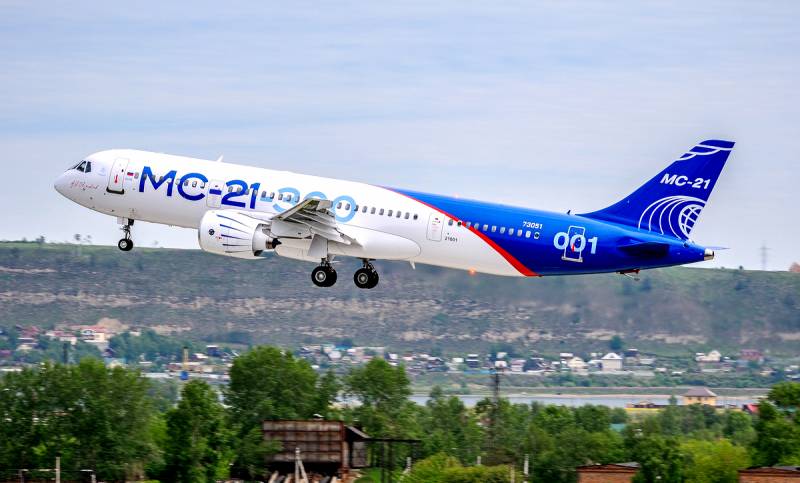 The Russian United Aircraft Corporation is testing new civilian aircraft that were previously suspended due to rampant COVID-19. Currently, four instances of the MC-21 are being tested. A British edition of Simple Flying talks about Russian news and explains why this aircraft can compete with Boeing and Airbus.
According to British experts, the MS-21 is a very promising short-to-medium-range narrow-body passenger aircraft developed by Irkut Corporation.
This airliner is in experienced hands and has every chance of becoming a competitive player in the global aviation markets - Irkut has 88 years of experience in the aviation industry
- emphasizes the British edition.
Airliners will be equipped with Russian engines of the fifth generation PD-14, which meet all environmental requirements and create a minimum of noise. The aircraft body is made of advanced materials and aluminum alloys, which allowed to reduce take-off weight and maintain a relatively low cost in comparison with similar machines of other companies.
Another significant plus of the new Russian aircraft is increased passenger comfort. MS-21, unlike competitors, has the widest fuselage in this class of aircraft - passengers received significantly more space, and long flights are not so tiring to carry over.
Foreign companies have already begun to show interest in the MS-21. So, the airline from Cairo plans to buy six such aircraft, plus an option for four more liners. Azerbaijan Airlines wants to lease 10 MS-21. Merpati Nusantara Airlines from Indonesia, as well as Peruvian Airlines, also became interested in Russian news.