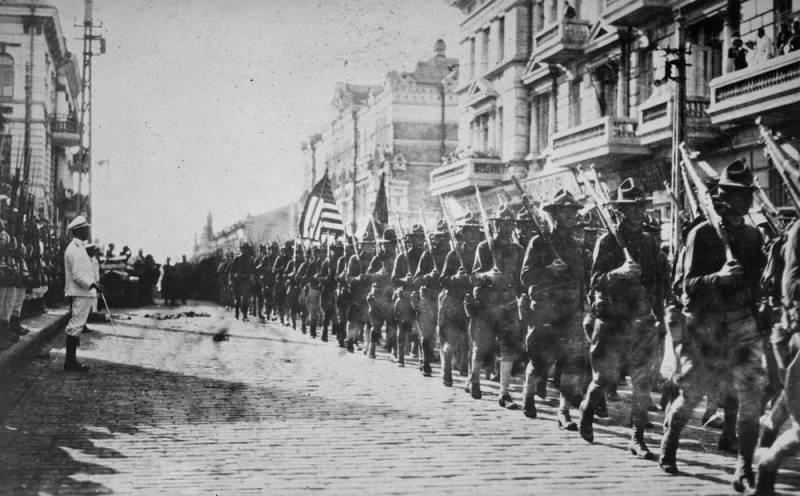 The Russians have a good memory, they did not forget how 100 years ago the US troops invaded Russia, writes the American publication The National Interest.
The analytical magazine notes that the Russians have rich historical experience, so they rightly fear a possible NATO invasion. This is not a phobia, but a reflex that has developed over centuries of communication with Western countries.
So the fears of Russia are not groundless. Over the past centuries, this country has been subjected to a large number of invasions. It was attacked by Sweden, Poland, France, Great Britain, Germany and even the USA. In Russia, they remember very well how the American expeditionary force held a parade in August 1918 in Vladivostok at the headquarters of the Czechoslovak Legion. At that time, a significant part of the former Russian Empire was occupied by the Entente countries.
The US military took an active part in the civil war in Russia. Many naive modern US citizens do not even suspect this. But then Washington sent his soldiers to kill the Bolsheviks in Primorye, and not to confront the Germans in Europe. Therefore, if Russia is outraged by the expansion of NATO, then it has strong arguments not to trust the West.
The publication draws attention to the fact that Russia's anxiety is increasing from year to year, and there is an explanation for this. NATO continues to expand eastward, despite assurances that the Warsaw Pact countries and republics of the former USSR will not become members. Therefore, it is not surprising, "that the Russian bear will sharpen its claws." It's just that Russia is doing everything possible to prevent another clash. At the same time, the West stubbornly continues to move towards the borders of Russia.