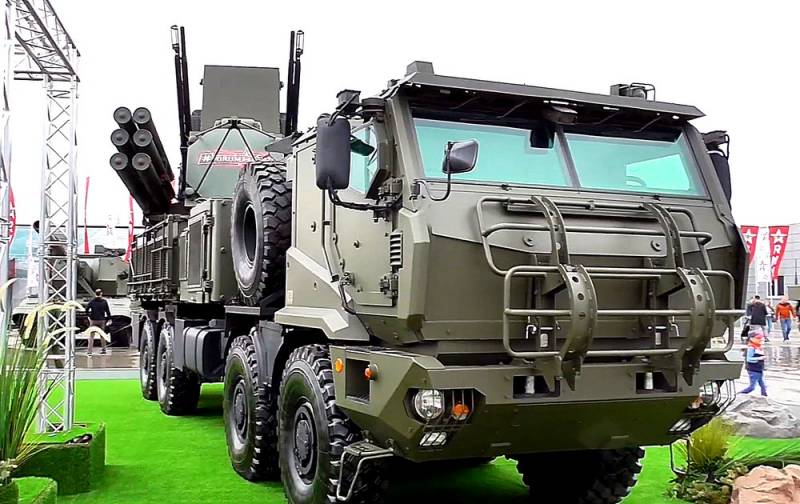 On June 24, 2020, at the Victory Parade in Moscow, Russia will show a new version of the Shell shell instead of the "notorious," writes the American specialized online publication Defense Blog.
It seems that Russia has coped with the COVID-19 pandemic, since President Vladimir Putin ordered that this anniversary and solemn event, which had previously been postponed due to an outbreak of coronavirus, be held. During the parade, among other new products, the general public will be presented with a modernized version of the Pantsir-SM air defense system based on the KAMAZ-53958 Tornado (8x8).
ZRPK "Shell-SM" has an armored cabin, an engine with a capacity of 450 hp and automatic transmission. The anti-aircraft complex is equipped with a new radar and an advanced infrared electro-optical target tracking system. In addition, a new missile appeared in the arsenal of the complex, the range of which increased to 40 km.
New "Pantsir-SM" pic.twitter.com/S3czRIGwV0

- GodnotA (@mahmud_aheli) June 11, 2020
Work on the "Shell-SM" was carried out taking into account the experience gained during the Syrian conflict.
Let us note that by "problematic" and "notorious" the American edition refers to the difficulties that arose in the aforementioned air defense missile systems in Libya, when Turkish Bayraktar TB2 drones shot them from the air with impunity. Moreover, in Syria such misunderstandings did not arise. Such an argument can hardly be called adequate, because the failures of Russian-made air defense missile systems in Libya are associated not with the complex itself, but with the professional preparation of the calculations.