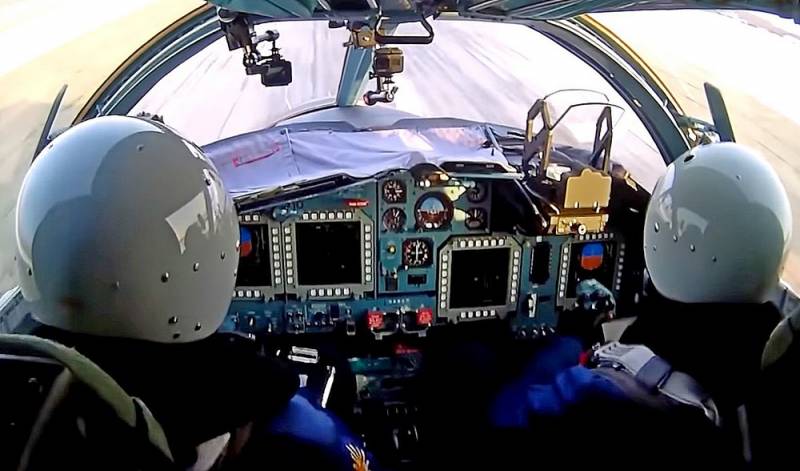 The Russian "duckling" Su-34 received the HBO prefix (new features) and can compete with such "eminent" cars as the F-15E and F-15J, F / A-18 E / F Super Hornet, as well as the F-35. On the eve of the Ministry of Defense entered into an agreement with the Sukhoi Design Bureau and the Novosibirsk Aircraft Plant for the supply of VKS 76 of the aforementioned modernized fighter-bombers.
During the trial operation in the Syrian sky, our "updated duckling" Su-34 HBO showed excellent results. The successful combination of several domestic developments at once made it possible to turn the front-line bomber into a unique aircraft with outstanding tactical characteristics.
In particular, the Khibiny electronic warfare complex, which hides the combat vehicle in the radar range and protects it from anti-aircraft weapons, after a small modernization will allow the duckling to mask other planes in the group.
Still, domestic engineers have found a solution that allows you to use the same tire for mounting one of the three containers created in the framework of the project "Sych": optoelectronic, radio engineering or radar reconnaissance. All this will allow the new version of the Su-34 to detect by radio electronic silhouette even small-sized ground targets, to detect moving targets, hidden in the folds of the terrain, as well as detect low-flying or drones hanging in the air. In addition, due to the ability to carry out low-frequency subsurface radar, the complex is able to open underground bunkers with a detailed drawing of their architecture.
At the same time, tests in Syria have shown that all this works in any weather conditions. Consequently, the combination of promising developments, with the refinement of the existing equipment, made the Su-34 NVO not just a modernized aircraft, but a combat vehicle capable of solving striking tasks of increased complexity and acting as an unsurpassed operational tactical reconnaissance.