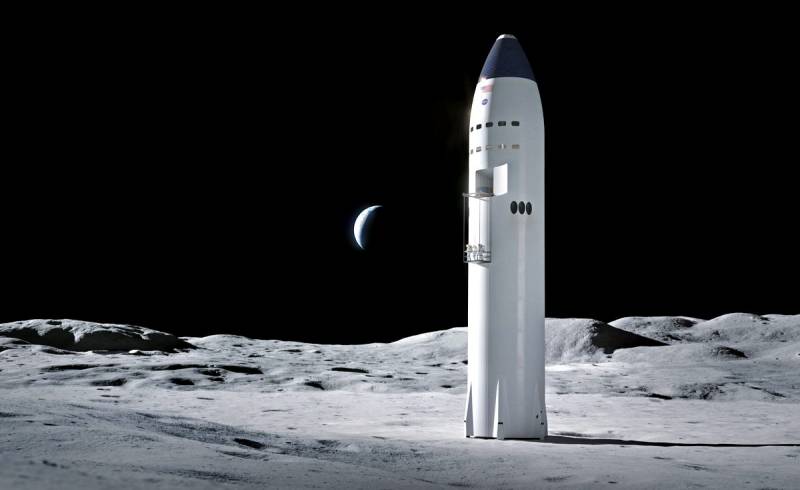 After the successful launch of the Crew Dragon manned spacecraft, SpaceX intends to focus entirely on creating the Starship spacecraft and the reusable superheavy Super Heavy rocket. The head of the corporation, Ilon Musk, spoke about further plans and versions of the promising device on Twitter.
Recall that the development of the Starship, designed for deep space flights, started in 2016. The creation of the device is with varying success. At the moment, four prototypes "broke" in tests. However, for an early stage of development, this is quite normal.
Initially, the Starship & Super Heavy "bundle" was created to deliver passengers and cargo to Mars. But this year, the head of SpaceX showed off the design of the lunar version of the spacecraft. It should be noted that outwardly it differs significantly from the Martian one.
In particular, it lacks a heat shield, flaps and shunting engines. Consequently, the device will fly to "one end", because, if returned to Earth, it simply burns in the atmosphere.
Musk himself declared the "disposability" of the first lunar versions. In his opinion, in the initial stages of the exploration of the moon, a return flight is not needed. These will be unmanned missions, the purpose of which will be to deliver the necessary equipment to the surface of our natural satellite. At the same time, the ship itself can subsequently serve as a temporary base for astronauts, while the main ones will be erected.
As for the shunting engines, heat shield and flaps, they will not be required during the landing on the moon. In this case, the absence of the above elements will reduce the total mass of the ship.
The head of Space X emphasized that during the first missions it will be necessary to deliver as much equipment as possible, which means the ship itself should be as light as possible. About whether in the future the lunar version of Starship will be manned, nothing has been said.