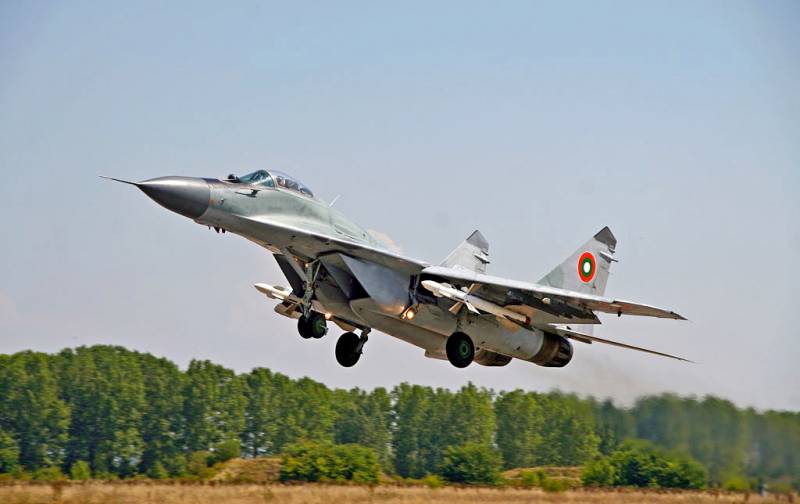 Bulgarian Defense Minister Krasimir Karakachanov put forward the idea of ​​selling old Soviet MiG-29 fighters to cover the costs of deploying new F-16 aircraft. Bulgarian portal Mediapool asks whether the country's authorities will be able to implement this
machinery
at a decent price.
In the 1980s, Bulgaria received 22 MiG-29 aircraft. And, according to aviation expert Dimitar Stavrev, selling some of them for good money will be very problematic.
These fighters are practically not for sale. Such an old modification of military aircraft is used in very few countries - perhaps in North Korea
- noted Stavrev.
According to him, one should look for contacts with military museums, because these fighters were at one time one of the symbols of the Cold War. In addition, there is always the opportunity to sell them for scrap. Hungary and Romania have already tried to implement such combat aircraft, but their attempts were unsuccessful. According to the Aero publication, the price of four MiG-29s that have not flown since the 1990s will be symbolic and very close to the cost of scrap metal - up to 100 leva per plane (about 000 million rubles).
If the planes are still put up for sale, for them it will be possible to request a price of 1-2 million dollars. However, the leadership of the Bulgarian Air Force is most likely to oppose, accustomed to using non-flying cars as donors of spare parts for those that are still in operation.
For the period 2006-2020. Bulgaria entered into maintenance contracts for the MiG-29 for a total of 275 million leva without VAT (1 lev - about 40 Russian rubles at the current rate). Although the country has acquired 8 new F-16 Block 70 aircraft from the United States in the amount of more than 2 billion leva, the use of MiGs so far remains uncontested.
To completely switch to a new type of combat aircraft, you need to buy at least another 8 US fighters. However, when the purchase may take place is not yet known.