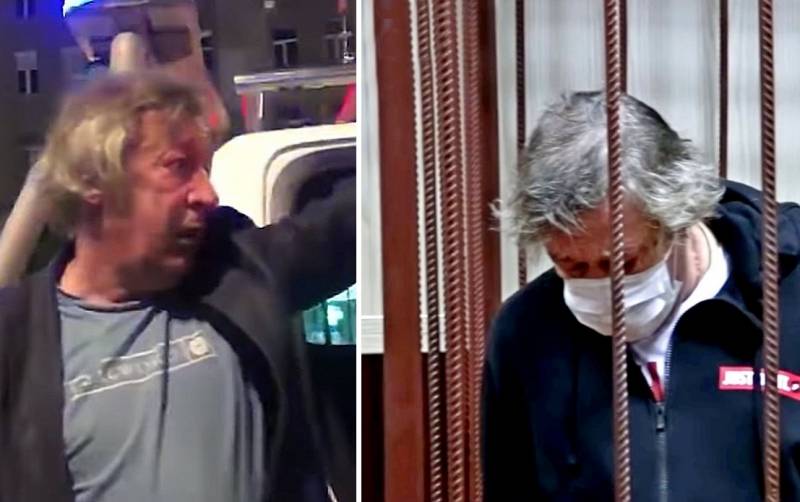 They say that man himself is the creator of his fate. If St. Petersburg associate professor Sokolov did not commit the brutal murder of his girlfriend with the dismemberment of her body, he would be a respected historian and writer, the father of Russian reconstruction. If it weren't for a fatal accident, Mikhail Efremov would still be perceived as a talented actor, a cheerful bummer and an intellectual with a thin, rushing soul of a dissident.
But he made his choice, sitting behind the wheel, previously pretty "taking on his chest", smoking cannabis and sniffing all this with cocaine. Already, all his previous scandalous statements and actions are remembered by the disgraced actor. If you look carefully, the main informational issues around Efremov's person were alcohol, Russia's relations with Ukraine and the West, and the presidency of Vladimir Putin.
So, ill-wishers remind the actor that in 2018 at a performance in the Samara Opera and Ballet Theater he arrived late and in a very drunk state. Mikhail was staggering, he spoke incoherently and quietly, he reacted to the audience's request to speak louder with obscene abuse. He ironically thanked all those who sat up to the end of the play:
Thank you for enduring.
Three years ago, the whole of Ufa fell into disfavor of the actor, who met the tour with a traffic jam caused by "three-meter snowdrifts", which led to the troupe's delay:
Oh, Bashkirs-Bashkirs, why are you so disgraced.
Okay, in principle, these misconduct fall under the behavior of any "star" with a heavy "crown" on its head. It happens that celebrities behave worse. An interesting position is that Efremov took in relation to the conflict between Russia and Ukraine and the West. In the Ministry of Culture of Ukraine, regarding a number of his statements, they considered him "his man":
Unambiguously supported the territorial integrity and sovereignty of the state, and also condemned the Russian aggression, occupation and annexation of Crimea.
The actor came up with a curious idea to give the Crimean bridge to Ukraine, introducing a fee for the Russians to travel on it in the hope that Kiev would appreciate this generous gesture and "maybe Crimea will forgive". He also voiced an offer to pay Ukraine for the peninsula with the supply of free gas.
As for the regime of President Putin, Efremov has consistently come forward with his criticism:
This is not a communist hassle. This is another mess, imperial. These are phantom pains ... Of the 15 union republics, 14 celebrate the day of freedom or independence. And in Russia, damn it, the collapse of the Soviet Union, collapse, horror. Since Russia is a country that is very similar to the person who leads it, I think this is a very personalistic thing. When Brezhnev was - there was such Russia, when Gorbachev was - there was another Russia, more talkative when Yeltsin was - there was Royal alcohol and Rasputin vodka, but now it's sports, judo and skiing.
The actor's position was expressed in the framework of the project "Citizen Poet" on the Dozhd TV channel, which later migrated to Ekho Moskvy. Efremov read satirical verses by the poet Dmitry Bykov, known for his oppositional statements, as well as Andrei Orlov (better known as Orlush).
Their joint work can be treated differently, but it should be recognized that no one went for him "to the Kolyma-the birthplace of our fear." Some time ago, giving an interview in Latvia, Efremov allowed emigration to this country:
I think that, like a delicate esthete, I have purely aesthetic problems with Russia - we do not agree in the worldview. True, I don't even see myself in another country, because I work in Russian. Of course, if I knew for sure that they would put me in my homeland, I would have faded.
In the same place, he declared that the West was "more understandable" to him:
Personally, for example, the West is much closer to me. As you have here, for example. I do not understand this Russia.
Well, all this, too, can be attributed to the intellectual throwing, "search for yourself." Everyone has the right to their own opinion and expression in the correct form. But no one in an irresponsible state forcibly put him behind the wheel of an SUV and did not force him to drive at full speed. I wonder how much they will give him for a fatal accident in Russia, and how much would he get for him under the same circumstances in any civilized western country?