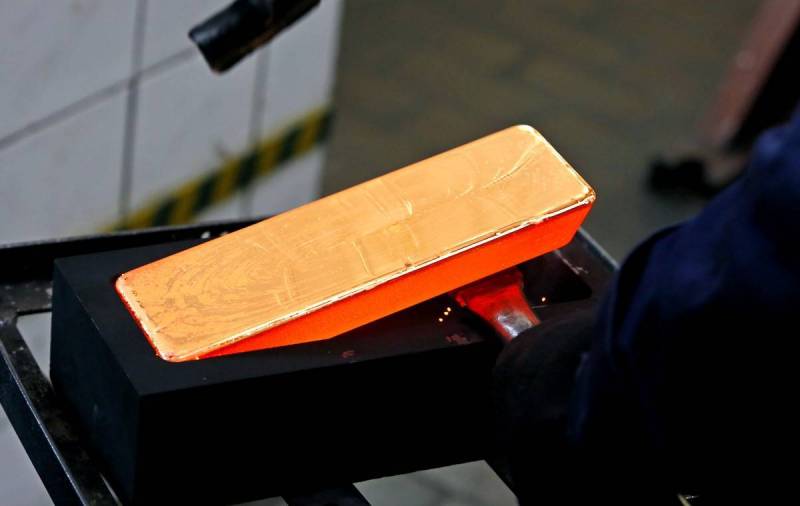 Apparently, a "big revision" is scheduled in the US gold vaults. According to the Chinese publication Sohu, another 13 EU countries are ready to raise the question of returning their gold reserves to the "hegemon". However, there are serious doubts that Washington has something to present to its NATO allies. It can turn out very "inconveniently".
To such a radical step, the Old World pushes the growing world
economic
a crisis. President Trump previously spoiled good relations with Europe with his active protectionist
policies
. Then came the "oil war", which brought down quotes of "black gold", and the coronavirus pandemic, which hit the volumes of demand and production of goods and services. Reasonable people understand that this is far from the end, but rather the beginning of an even more fierce confrontation for markets and resources. In this situation, interest in reliable protective assets, which traditionally refers to gold, sharply increases.
The world leader in reserves of this precious metal is the United States. Following them are Germany, Italy, France, Russia and China. Our country has been actively increasing its gold reserves in recent years. Moreover, Russia keeps a gold reserve on its territory, which cannot be said of other countries. All this provoked the Europeans to export precious metal from the United States. As the saying goes, a bad example is contagious, with the only difference being that it is not a bad one.
For example, German gold was in the hands of the Anglo-Saxons for a long period. In 2017, Berlin barely managed to return 1710 tons of precious metal, but another 1236 tons remained in the United States, and 432 tons in the UK. Subsequent attempts to get their own turned out to be fruitless: Germany received only 5 tons of gold, its representatives were not allowed into the vault for inspection of the ingots, and after that the FRG leadership completely abandoned its plans, saying that it had no reason not to trust Washington, and the transportation of gold across the ocean cost fabulously expensive. This story made many think, especially when you consider that the returned ingots did not correspond to the former, having been produced clearly recently.
Another "marvelous story" happened in 2010, when the US Treasury sold 5600 gold bars to China. The word is taken in quotation marks, as it turned out that it was fake: ingots of tungsten were simply gilded on top. The investigation showed that the ingots had the appropriate marks and were officially stored in Fort Knox. So think for yourself what kind of "gold" is in the hands of the USA, and where did the present go.
A logical question arises as to how EU countries intend to return their gold reserves back. President De Gaulle once sent a cruiser loaded with American bills to the United States and threatened to set up NATO bases from France. He achieved his goal, but it cost him a chair, and only a year after his resignation, he suddenly died. Apparently, the United States resolved the issue with Germany behind the scenes. But now, a damn dozen European countries can immediately make a claim. It is interesting to see how this time Washington gets out.