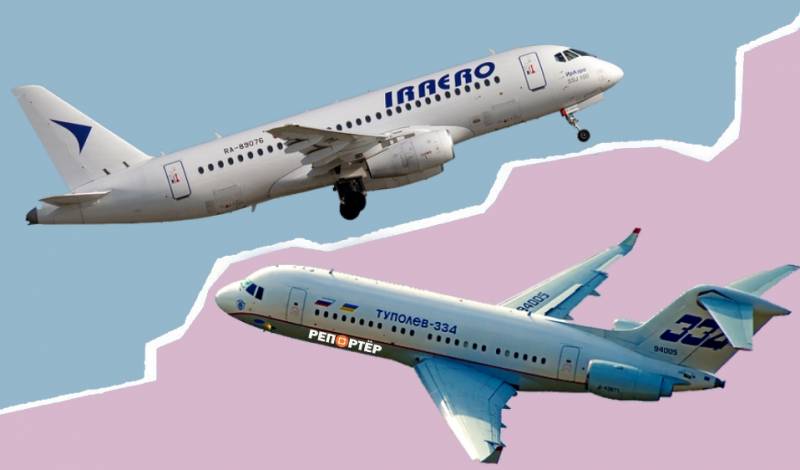 A member of the Federation Council Andrei Kutepov took a curious initiative. Head of the profile committee for
economic
policy
proposed to resume production of the domestic Tu-334 airliner to replace the long-suffering Superjet. The idea is interesting, but not entirely unambiguous. What are the arguments for and against?
Recall that the Tu-334 is our short-haul aircraft, work on which was begun in the late Soviet period. A promising airliner was to be made from domestic components, it was supposed to involve about 300 enterprises. The basic version of the Tu-334-100 even passed certification. And then he was "buried" in favor of the Superjet.
Senator Kutepov points out the fallacy of this decision. He rightly notes that the SuperJet-100 is a commonplace "designer" of foreign components, the share of which was originally 80%, later it slightly decreased. In the context of Western sanctions, such dependence creates great risks. Many experts point to such a disadvantage of the Superjet as low clearance, which significantly limits its capabilities at regional Russian airfields, where it should, in theory, be operated.
Finally, the main complaint against the "Tu-334 killer" is that it does not fly as much as it is waiting for repairs, due to chronic problems with the quality of French-made aircraft engines. Because of this, foreign customers prefer to abandon this aircraft, and in Russia itself it is only possible to attach it with active state support.
In general, everything is true, finally, in the highest echelons of power, they recognized the fallacy of the chosen path. But does this mean that now it is necessary to "bury" the SuperJet already and pour funds into the revival of the Tu-334, as a member of the Federation Council suggests:
I ask you to consider proposals for the resumption of production of the Tu-334, including this event in the state program for the development of the aviation industry.
I really want to automatically say: yes, it is necessary. But you need to remember a number of important points:
At first
, Tu-334 is a product still Soviet
of technologies
. Many enterprises that were supposed to be involved in the production of the aircraft are simply no longer physically present as a result of decades of "reforms". After breaking off relations with Ukraine, there is no engine for him now. Restoring lost competencies is an expensive and slow task.
Secondly
, an aircraft with so many seats is not in great demand on the market, which was demonstrated by the Superjet-100 itself. We need liners designed for either 75 passengers or 120-130. "Burying" one unsuccessful project for the sake of another is the same, it makes no sense, otherwise the Tu-334 will have to be deeply modernized, and this will also cost a pretty penny and can drag on for a long time. After there will be a problem of its certification abroad.
It turns out that the decision of the authorities in favor of the "Superjet" drove us into a trap. 44 billion budget funds were thrown to the "foreign designer", and during this time the Tu-334 train left. To turn off the production of Superjet means to admit that a lot of money was spent in vain, while it is not known how much it will cost to revive and modernize the old Soviet liner. The financial situation of our country today is not such as to carry out such experiments and simultaneously have two short-haul aircraft in parallel, demanded in a fairly narrow segment of the market.
No matter how unpleasant it may sound, it seems that the "sabotage" against the Tu-334 was very successful, and his time has passed. In the current difficult realities, it will be more appropriate to bring to mind and maximize Russification of the "Superjet", translating it into domestic engines and components. And then, on its basis, it will already be possible to develop and build new modern aircraft that can be certified for export sales. Otherwise, all this will turn into a complete booth.