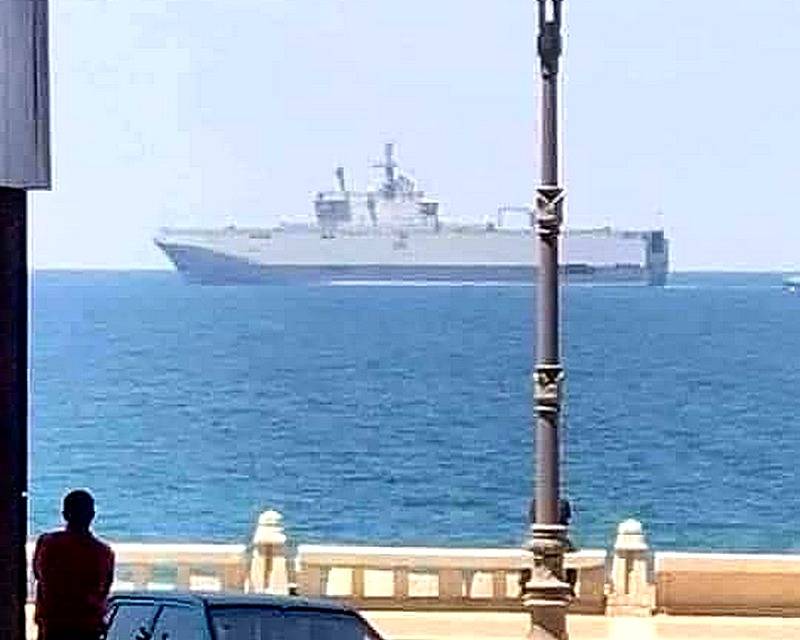 In social networks, a snapshot of the Egyptian helicopter carrier Mistral appeared, going to the Libyan coast. The photo was taken off the coast of Misra Matruh, about 240 km west of Alexandria, where these ships are based, and 200 km from the territorial waters of Libya. Apparently, the ship goes west.
Earlier it became known also about
transfer
American tanks "Abrams", armed with Egypt, to the border with Libya. The Egyptian army, therefore, can directly intervene in the hostilities taking place in this country.
Egyptian President Abdel Fattah al-Sisi previously proposed a Libyan peace plan. The Egyptian initiative involves stopping hostilities from June 8, unification of the country's state institutions, as well as the withdrawal of militants from other countries from Libya and the disarmament of local military groups.
Marshal Khalifa Haftar, head of the Libyan National Army, supported the idea of ​​al-Sisi. However, Faiz Saraj, who heads the Government of National Accord, rejected Cairo's initiative. This was reported by Reuters. According to Khaled al-Meshri, the head of the Supreme State Council, acting in conjunction with the PNS, Libya does not need any new initiatives. Meshri also spoke out negatively about Haftar's idea of ​​returning to negotiations.
Mikhail Bogdanov, co-chair of the Russian president for the Middle East and African countries, deputy foreign minister of Russia, said the Kremlin supports Egypt's ceasefire in Libya.