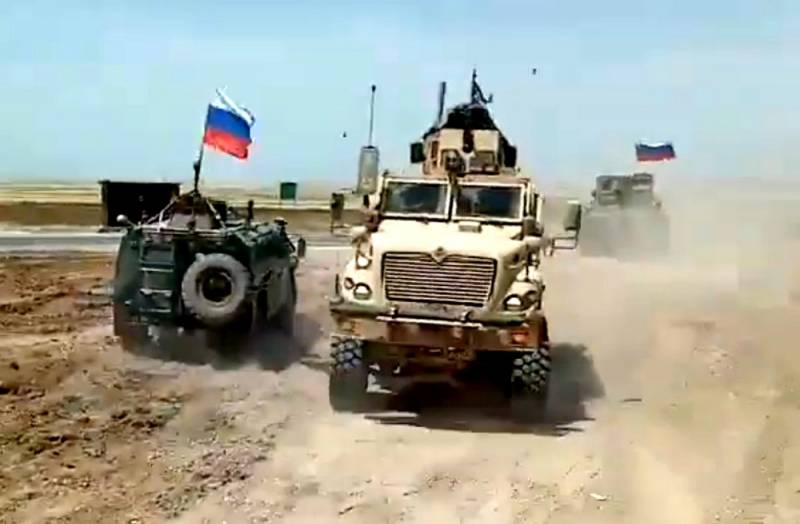 A very entertaining video appeared in social networks of how Russian military vehicles masterfully evade the attempts of the Americans to block their military patrol.
Russian "elusive avengers", skillfully taxiing, do not leave overseas soldiers a chance to block the road. Armored car drivers with the skill of Schumacher evade US military vehicles. The video is accompanied by the corresponding incendiary music from the famous Soviet film.
Recently
стало известно
on the construction by Russia of a new military base in Syria, in the Malikiya region in the oil-rich north-eastern part of the country. The new Russian base will be located in the territory controlled by the US military, which indicates possible secret agreements between Moscow and Washington on the division of spheres of influence in Syria.
Earlier, US Assistant Secretary of State David Schenker said that Russian troops should "get out" from Syria, since the Russian Federation allegedly plays a destructive role in the region. Russian
politicians
outraged by the boorish words of the American diplomat - the official representative of the Russian Foreign Ministry, Maria Zakharova, in this regard, asked a rhetorical question about what the US troops are doing on Syrian soil and who invited them there.
However, not all US politicians assess Russia's role in Syria negatively. For example, on May 12, the United States Special Representative in the SAR, James Jeffrey, emphasized that the Russian Federation is very successful militarily in this country and is achieving major strategic successes.