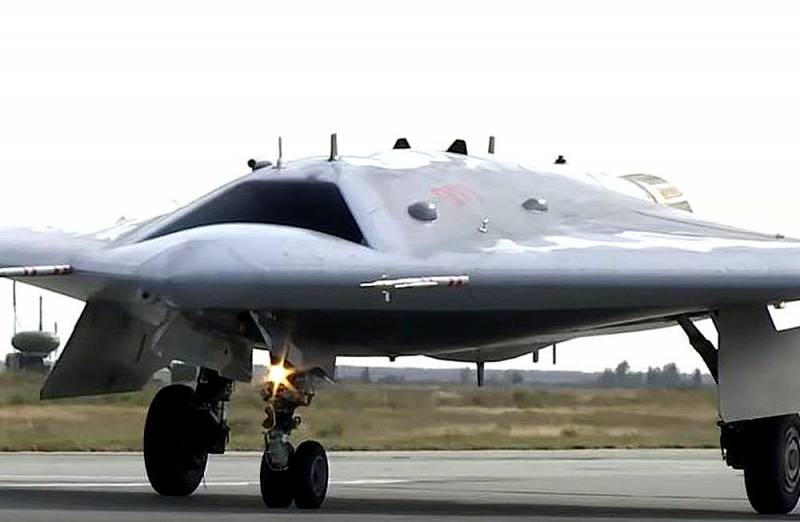 The American magazine The National Interest decided to evaluate the stealth capabilities of the Russian heavy strike UAV (unmanned bomber) S-70 Okhotnik, which is manufactured by Sukhoi.
Experts of the publication became interested in the S-70 after it had recently been insured for almost 1,3 billion rubles. before the next test. Indeed, very little is known about this UAV and the last time the Russian Ministry of Defense showed it in September 2019, when the S-70 made an elegant 30-minute flight at an altitude of 1,6 thousand meters, accompanied by the Su-57 fighter.
According to the Americans, the video presented is clearly not enough. They want to see not the "model flight", but the "real work of the drone", i.e. look at its percussion features. After all, only then can one evaluate the full potential by identifying advantages and identifying weaknesses. As an example, the Americans cited recent publications from China, which showed how the Pterodactyl II drone destroys targets on earth.
However, even the available video was enough for the Americans to draw certain conclusions on the stealth of the S-70. NI is confident that the S-70 in its stealth capabilities is comparable to the Lockheed F-117 Nighthawk, the American single-seat subsonic tactical stealth strike aircraft, the world's first invisible aircraft. F-117 took to the skies in 1981 and in 2008 was withdrawn from service.
At the same time, NI believes that the C-70 is inferior in stealth to the American heavy strategic bomber Northrop B-2 Spirit. Experts called the S-70 design more "angular" than the B-2, and criticized the open UAV nozzle, which will increase the effective dispersion area.
The Americans also noticed that the S-70 has no external suspension components and they do not know anything about the internal compartment of the UAV.