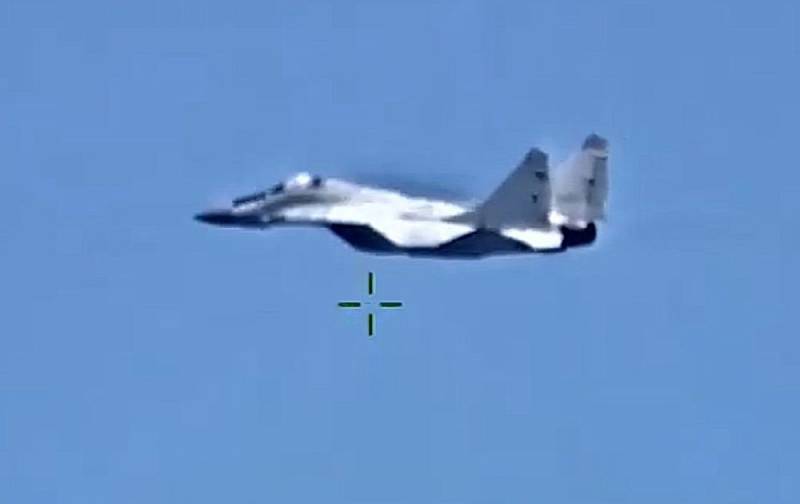 On June 5, 2020, the African Command of the US Armed Forces (AFRICOM) published a video that tried to pass off as the transfer of Russian MiG-29s to Libya.
Before that, on May 26, 2020, the Americans
published
photos that allegedly testify to Russia's assistance to the Libyan National Army of Field Marshal Khalifa Haftar and "his Russian mercenaries," but now they decided to share video material with the public. The frames show that the MiG-29 flies without outboard fuel tanks and the exact same photo is present in a previously made publication.
However, without the PTB, the MiG-29 simply could not fly from the Khmeimim air base (Latakia province in Syria) to Benghazi in Libya, since the distance is more than 1500 km. Theoretically, MiG-29 would probably be able to reach Tobruk, the extreme north-eastern point of Libya, where there is an airport. But to overcome the remaining 300 kilometers to Benghazi without refueling is unlikely.
We remind you that on May 30, 2020, the Syrian news agency SANA informed the public that the transfer ceremony of the upgraded MiG-29s had taken place at the Khmeimim airbase. Moreover, on June 3, 2020, the Russian embassy in Damascus confirmed in a Tvitter account
delivery
a batch of Russian MiG-29 fighters for the Syrian Air Force, specifying that this is the second delivery within the framework of the military-technical cooperation between the countries.
So the American video, as well as their metered presentation of information, absolutely does not prove anything.