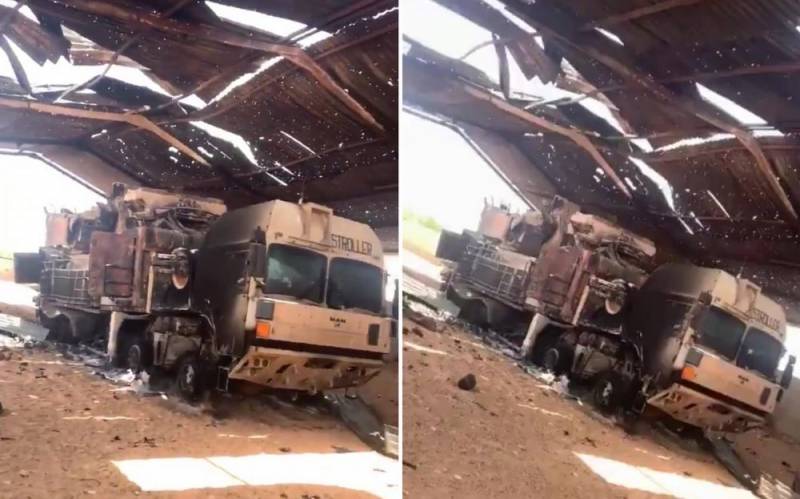 The Libyan national army of Field Marshal Khalifa Haftar has lost another modern anti-aircraft missile-cannon system "Shell-C1". Over the past month, the Libyan parliament's troops have already lost about a dozen such Russian-made air defense missiles delivered from the UAE.
The other day, Libyan National Accord Government units, with the support of the Turkish army and the active participation of the "Syrian refugees", recaptured the city of Tarhun from Haftar, which occupies a strategic position on the outskirts of Tripoli (80 km to the southeast). In this city, the burnt "Shell-C1" was found in the parking lot in the hangar (on the MAN SX45 chassis).
It was previously assumed that this SAM was destroyed on May 20, 2020 by the Turks using a rocket fired from a Bayraktar drone. Then, shots of a burning hangar appeared on the Web, in which allegedly "Shell-C1", but there was no clarity. Many users were sure that due to a fire in the hangar, the detonation of ammunition could begin. Now this information has been confirmed. A video has already appeared on the Web from Tarhuna with the burned "Shell-C1."
It should be noted that after Turkey intervened in the conflict on the territory of Libya, the situation at the front has seriously changed. Haftar's offensive in Tripoli was stopped, although the LNA had already entered the suburbs of the capital. Now Haftar
left
Tarragon, and his
approach
Garyan choked.