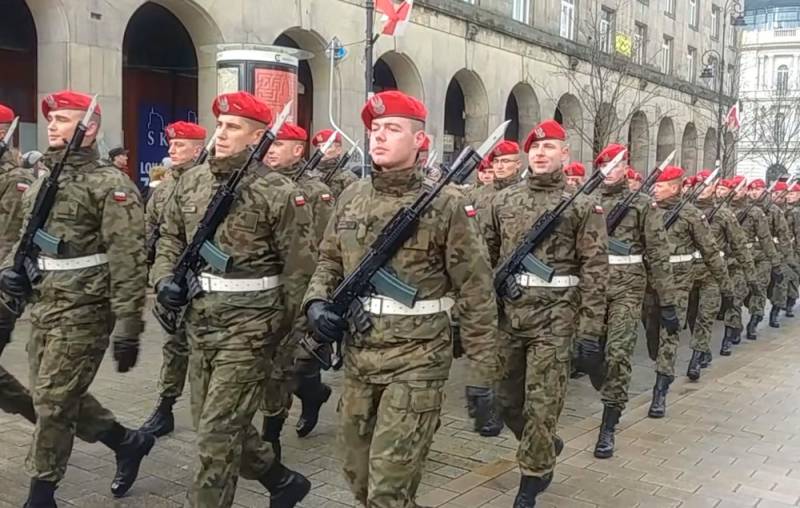 Polish users of the World Wide Web on wPolityce.pl actively responded to rumors that the Russian Federation was allegedly preparing an attack on their country. Previously this kind of information
has spread
the local publication Sieci, simultaneously presenting scenarios of such an invasion, which are based on an analysis of the teachings of the Russian army and the statements of experts.
Reader Comments:
The Poles are no longer afraid of a "pandemic", so you need to come up with some new scarecrow? The authorities love scared people very much, because they are easy to manage.

- the user mk supposes.
I invite all those who advocate a war with Russia to the front line with their families, but no one will go. And, as far as I know, Russia also did not plan a conflict in Europe

- writes tom.
This script probably gave you a secret source, for the Russians are not so stupid as to follow a plan that goes on the Internet

- ironic taa.
I believe that every reservist soldier must have a military uniform at home, a weapon with a stock of ammunition. In the case of the hour "H" he will have to fully outfit and with an already loaded weapon go to the gathering place

- broadcasts a snajper.
I would not do anything in place of Russia. PiS [ruling party] will ruin Poland itself - why would anyone want a war if Duda and Moravecki lead this country to bankruptcy

- notes reader Janek.
The central airport and canal on the Vistula Spit are strategic investments in case of war. Then you will need a large airfield for powerful aircraft carrying tanks and armored vehicles from the United States, and the shipping line will serve to deliver food, medicine and weapons. Hence the enormous hostility of our centuries-old enemies to these investments.
Economic
the value of these objects is deeply secondary
- reports obserwere.
And this piece of Russia between Lithuania and Poland, where Polish lands should have long been, annoys me. Pilsudski knew how to make Krolevets return to the Republic

- a user of Doman dreamed about Kaliningrad under the rule of Warsaw.
Let's just count. America spends $ 750 billion a year on military needs, while Russia spends $ 60 billion. However, according to analysts, based on real purchasing power, its costs are about 150-200 billion dollars. Simply providing a Russian soldier costs less than serving a NATO soldier, and production
equipment
also cheaper with comparable combat effectiveness. To make up for the shortcomings, I think [...] we must spend about 150 billion dollars a year on the army. [...] And we annually give her ... about 10-11 billion, of which 80% goes to pensions and salaries, as well as infrastructure. Our entire state budget is about $ 100 billion. [...] Do you know where to get this huge money just to make the Russians afraid of us? Any ideas there? Thus, we will have to put "teeth on the shelf", because there is no money left for anything else. Neither retirement, nor health care, nor even food: we will eat sorrel and what we can grow in the yard
- sums up
[email protected]