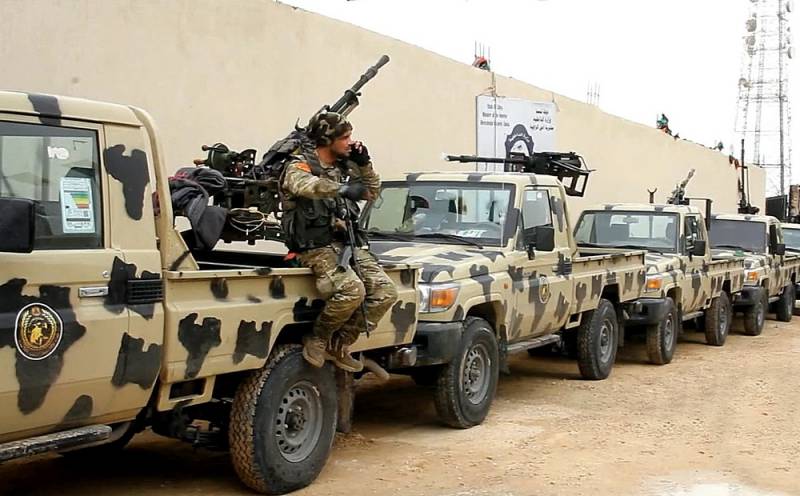 The military forces of the Government of National Accord (PNS) during the offensive displaced units of the Libyan National Army from the city of Tarhun, located 80 km southeast of Tripoli. According to Turkish Anadolu agency, on June 5, Saraj's troops continued to push Marshal Khalifa Haftar's formations away from the Libyan capital.
Before the liberation of Tarhuna, PNS troops surrounded this city. The Al-Kainat military brigade of the Haftarovites left the village on the night of June 5, Faiz Saraj's forces are pursuing the retreating units of the LNA - this is reported in the headquarters of the military operation "Volcano of Wrath" of government troops. Representatives of the PNS talk about the following objectives of the offensive - they may be the oil-bearing regions of the country, as well as the cities of Jufra and Sirte.
The loss of such a strategically important military facility as Tarhun, and the airport adjacent to it, became a sensitive defeat for the army of Khalifa Haftar - the marshal's troops lost another reference point on the way to Tripoli. Recent events in the confrontation between the warring parties indicate the actual failure of the 14-month operation to storm the LNA of the capital. On June 3, "Haftarovtsev" were knocked out of Tripoli International Airport.
The only success of the LNA in the past few weeks has been the capture of the city of Al-Asaba 120 km west of the capital. Haftar's army also suffered a series of defeats following the loss on May 18 of the al-Vitiya air base south of Tripoli. The LNA attack on the city of Garyan also ended in failure.