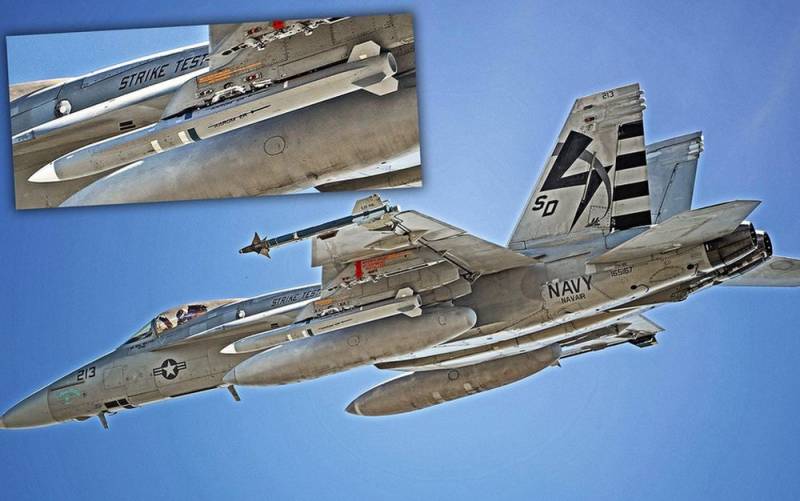 For the first time, the US military spotlighted the Russian S-400 air defense assassin, the American online edition of The Drive writes.
The publication notes that the U.S. Navy carrier-based fighter-bomber and attack aircraft F / A-18E Super Hornet first flew with the prototype of the AGM-88G-Extended Range, or AARGM-ER (Advanced Anti-Radiation Guided Missile-) Extended Range). The test flight took place at the Patuxent River training ground in the state of Maryland in early June 2020.
The exact characteristics of the AARGM-ER (AGM-88G) missile are not disclosed. However, it is known that it is developed on the basis of the AGM-88E rocket, which has a flight range of over 130 km, and its speed when approaching the target reaches 2 Mach numbers. Subsequently, the carriers of the new missiles will be fifth-generation fighters of the F-35 Lightning II family, which will carry them in the internal compartments.
As Matthew Commerford of the US Navy's Main Arms Directorate, who oversees this program, explained, the new missile will have "the same lethality," but its size will decrease. A missile will become an effective means to destroy enemy air defense radars. She will have a modular combat compartment and a compact warhead designed by
Technology
LEO (Lethality Enhanced Ordnance).
The flight tests of the AGM-88G are due in 2021. All work is planned to be completed by December 2023, and already in 2025 the F-35 Lightning II should receive a production rocket. The U.S. military contracted with Northrop Grumman in March 2019. $ 322,5 million will be spent on developing a new rocket.