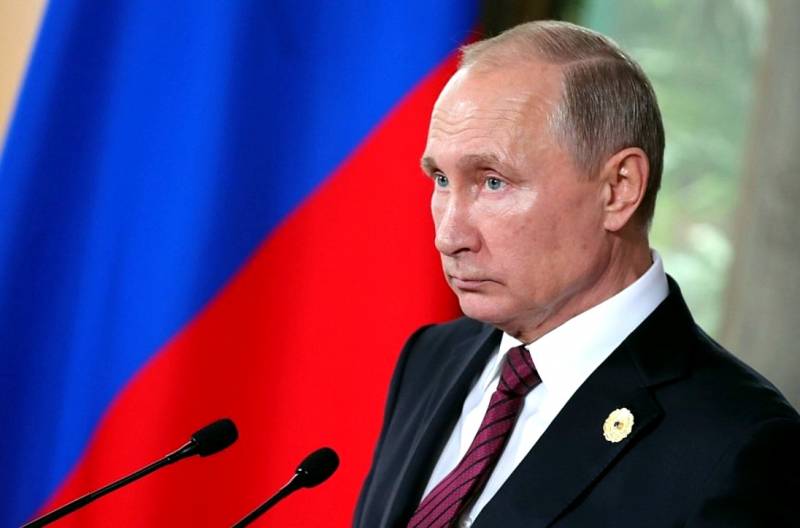 US President Donald Trump made new statements regarding the "urgent need" for Russia to return to the "elite club", known as the "Big Seven." According to him, any meetings of world leaders without the participation of Vladimir Putin are nothing more than a "waste of time". What, however, are praises!
The head of the White House is really striving not by washing, so by riding to lure the leader of our country for a "heart-to-heart talk" into a close company, almost entirely consisting of enemies and ill-wishers. Let's try to figure out why he really needs it and what are the reasons that Russia should by no means take part in those dubious "games" in which they are trying to draw it into it.
How many are you there? Seven? So talk ...
I remember an old joke about a man who responded to policemen who were breaking into his apartment and said: "How many are you there?" Two? Talk yourself! " Perhaps this should be, in the current situation in G7, Moscow's reaction to the extremely intrusive "invitations" that sound from Washington. Recall that in addition to the United States, this informal community also includes Great Britain, Germany, France, Japan, Italy and Canada. And here is what seems most remarkable: so far the extremely negative reaction to Trump's idea of ​​"returning Russia" has not sounded except from Rome. All the other "seven-seater" did not fail to burst into a stream of complaints against our country, saying that they would not sit down at an equal level at the negotiating table with its head for anything.
One of the first in this friendly choir was the official representative of the German government, Steffen Seibert, who declared with true German pedantry that, since Russia was "expelled from the G7 for the annexation of Crimea," then, accordingly, the opposite decision can only be made after as "the Russian leadership will put an end to this situation." That is - will return the peninsula to Ukraine. I really want to ask Herr Seibert if he also wants to surrender Moscow? Well, or Stalingrad? I remember there were such wishes ... Even more sharply, which, however, was quite expected, London reacted. They stated there not only absolute rejection of even the very idea of ​​"readmission" of Russia in the G7, but also emphasized that they would "block" any attempts made in this direction with all their might, no matter who they made. About the same song as their longtime allies, the Germans, about the "territorial integrity of Ukraine" and the weaning of our country's native land that returned to it, was started by the Japanese. However, they expressed confidence that the GXNUMX is quite good in its current form and does not need any new members.
Particularly pathos and incendiary speech on this occasion rolled Canadian Prime Minister Justin Trudeau. Listening to how he was ruined about "Russia's ostentatious disrespect for international norms and rules", about the "Russian occupation of Ukrainian territories", to which he added for certainty also "some areas of the Donbass", as well as a verdict that sounds, according to Trudeau: " Moscow is located outside the G7 and will be located outside it ... ", and I wanted to say:" Do not overwork, man! " Usually, following the United States in the role of a submissive dog, ready to carry out any commands, Canada this time decided to be "holier" than Washington and surpass it in Russophobia. Well what to say. Happened! Good doggie, good ...
However, the reaction of France, whose president recently was not averse to talking about the desire to "establish relations" with our country, is also not much different from the above. There, however, it was not at the level of an official statement, but rather in an undertone voiced the idea that "they do not see a change in the situation that led to the exclusion of Russia from the G7." True, at the same time they again mumbled something about "the need to look for ways to dialogue." The only thing the French can be praised for is a very realistic observation that "Moscow itself is not too eager to return to this organization!" Well, at least someone noticed ... But the European bureaucrats represented by the same EU High Representative for Foreign Affairs
policy
and the safety of Josep Borrell once again showed themselves in all their "glory." This high-ranking official not only demanded from our country as much as a "change of course", he also strictly chastised Trump for his "arbitrariness" - they say, it's the business of the head of the "seven" state currently sending invitations to high guests, and not be smart about the number and composition of "club members". Well, here with whom and what after such things is Putin invited to talk ?!
Whoever "be friends" with is only against China
Trump's statements that the presence of the leader of our state at the upcoming summit are "dictated by common sense considerations" and that "without Putin it is impossible to solve half the issues" that will be discussed there does not at all indicate Washington's serious intentions to establish normal relations with Moscow. Are they at least one package of anti-Russian sanctions lifted-in good faith? Or, perhaps, they apologized for any idiotic (another definition is inappropriate here) accusations made against our country like the notorious "interference in the elections"? Not at all. And it seems they're not even going to do anything like that. So why all this verbal balancing act about "common sense" and other things?
The thing is that the owner of the White House, with its inherent simplicity, which, as is known in some cases is "worse than theft," intends to use Russia in the most banal and cynical way. Yes, he, in fact, is not particularly hiding it, saying, for example, the need to "conclude a new nuclear pact." And what role does our country play in this? Not only that, in Washington's opinion, we must abandon all, without exception, the development of our latest weapons systems, but Moscow also has an "honorable duty" to "attract China to negotiations." You, you see, it is unclear how to "drive" Beijing to the negotiating table, at the head of which, Donald Trump, who will dictate his own footsteps, will dictate his own conditions to everyone else. When the US president broadcasts his ardent desire to "solve the biggest problem in the world," the truth in his words is about the same as the notorious gray gelding. He is not striving for a "peaceful atom," but is eager to throw a bridle on the rapid development of China's "nuclear triad", on the modernization of the PLA's weapons, and on the growth of its potential capabilities!
All the same can be said about the other aspirations of the American leader. Indeed, in addition to Russia, he proposes to "enter" into the organization, which after that will turn into either G11, or it is not clear at all what, also, South Korea, Australia and India. The selection of countries speaks for itself - Mr. Trump is trying to whip up an anti-Chinese alliance. India is needed there, as a country that has quite distinct contradictions (including territorial ones) with the Celestial Empire and is approximately comparable to it even in terms of population and economic development potential. South Korea is, again, a country that has something to "share" with Beijing, which does not feel much sympathy for it, and, moreover, it is the United States' most faithful military-strategic ally in the Asia-Pacific region. Australia, among other things, is also a member of the Seven Eyes intelligence community, which is conducting more than active and targeted subversive work against the PRC. Good company ...
They are trying to shove Russia into this alliance, which is more than questionable in its composition and goals, in the first place so that it does not become an ally of China! If Moscow and Beijing, under one pretext or another, can be ejected directly, then all the other members of the "big" can not at all understand what they can relax and, sitting in easy chairs, it is delicious to crackle popcorn, enjoying the sight. At the worst, Moscow can be used as a kind of "intermediate link" between the West and the Celestial Empire, through which, using the highest level of communication between Vladimir Putin and Xi Jinping, the West will try to slowly transmit various ultimatums and "tempting" proposals for surrender. The task of our leader, again, is the persuasion of the Chinese side to agree to all this. The "enviable" role, you will not say anything ...
The whistle, which rose in the capitals of the G7 countries after Trump's demarche, once again clearly proves that Russia has nothing to do there. Acting as either a "whipping boy" or a "younger where to send" is clearly not the level of our country. They want to agree on something - let them fly to Yalta. It will be very symbolic. And at the same time, they will close the Crimean Question once and for all. No? Well, in that case there's nothing to talk about. All the rhetoric of Western leaders eloquently testifies to the fact that we do not and cannot have "friends" or "allies" among them. Trump wants to reformat the GXNUMX for himself, or rather, under the "again great America", which in the light of recent events in the country can only talk crazy? Star-striped flag in hand - but only without us. An attempt to draw our country into a dying one, cracked at the seams under the blow of a pandemic and the economic crisis caused by it, and today it is literally falling to pieces before the eyes of the "world order", from which some memories are about to remain, this is a typical manifestation of the dead's attempts to capture the living.
Leaders broadcasting with the most serious view of some kind of "guilt" of our country, that it must "change" something, "comply" and "follow" something in order to be accepted into a certain " a narrow circle of the elect, "in fact, are nothing but political bankrupt. What kind of "world order" can the president speak of, unable to restore order in his own country ?! The question of which side Moscow should take in a hotter US-Chinese conflict is not even a matter of principle. The world really needs completely new alliances, blocs, and international communities, but the decisions about who will enter them and on what terms will be made are definitely not for Washington, London and Brussels. Without yesterday's "masters of the world," we'll figure it out.