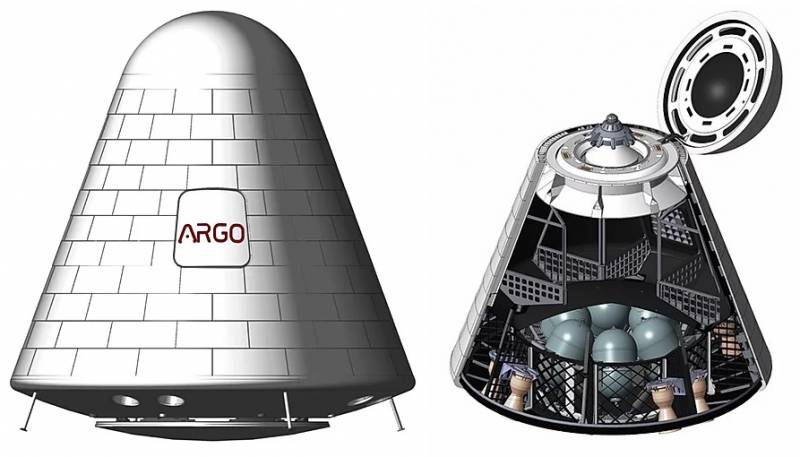 Immediately after the successful launch of Crew Dragon from Space X, a Russian private company announced that it was starting to build its own reusable spacecraft.
On June 1, representatives of MTKS announced the launch of a hull for the prototype of the promising Argo cargo ship. It is assumed that a reusable vehicle will be able to deliver up to 2 tons of payload to low Earth orbit and carry out cargo return up to 1 ton.
It is known that the promising Argo will consist of a returnable reusable apparatus capable of carrying out up to 20 missions without repair and replacement of components, and a disposable engine compartment. According to the developers, their ship will be able to fly offline for up to 30 days, which will allow this time to be used for experiments and research.
The Russian device will receive a reliable cargo rescue system in case of emergency during launch, as well as a high-precision landing system with landing on a retractable shock-absorbing shield. The first launch of the ship is scheduled for 2024.
It is reported that at 58% Argo will consist of composites. That is why the manufacture of the hull for the prototype of the ship began in Germany. We do not yet have the corresponding plants, and the planned launch dates do not allow delaying the construction of the apparatus.
However, soon we will have such production. The first production lines for the production of composite materials at the new plant are being commissioned right now in the Voronezh region. The latter will produce composites for various branches of Russian industry. But now, the main customer is MTKS, which will transfer the production of hulls and other parts for its ship here. Actually, for the most part, a plant is being built to meet the needs of the company.
Whether the project will become successful is not known. But the fact that MTKS opens new production facilities in Russia and creates competition for Roscosmos is already an undeniable plus.