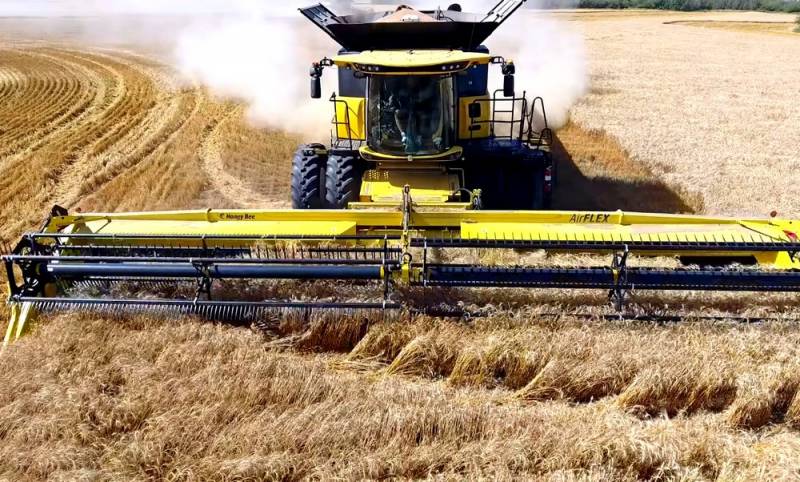 A paradoxical situation has developed in the agro-industrial complex of Russia - due to the actions of the government, Russia may give way to a leadership position in wheat exports. EU competitors were given priority in foreign markets when the industry leadership of the Russian Federation introduced quotas for grain supplies abroad. About it writes the portal "Agroinvestor".
Malicious restrictions
Western analysts, having received information about the over-harvest (almost 130 million tons) of grain in Russia, suggested that up to 33 million tons could be exported "painlessly" this season. Russian industry analysts who opted for much more modest numbers did not agree with these conclusions.
As a result, both forecasts did not come true, since the government introduced a quota of 7 million tons for grain exports abroad.
The introduction of incomprehensible in terms of meaning and benefits restrictions only harms the market and does not benefit the Russian farmer. But an element of nervousness and strong risks is introduced
- says Arkady Zlochevsky, president of the Russian Grain Union.
As the head emphasizes, the actions of the ministry did not lead to the planned effect: a decrease in the price of grain did not happen.
Our own government has presented all the trump cards to strong competitors from the EU. Now they will flood the market, not us. The fate of Russian farmers - to be satisfied with the remnants
- Zlochevsky shrugs his hands.
Russia misses leadership
The introduction of restrictions on the contrary raised the price of products. To date, under the quota, it remains to export no more than 700 thousand tons of grain.
Now, with the onset of the new season, when shipments resume under the new quota, the Russian grain producer will face a number of problems, some of which are man-made.
Here are just a few possible problems.
Firstly, not only in Russia a good harvest is expected, which is why the markets are likely to be crowded. Secondly, prices will be significantly higher than current ones, and thirdly, against the backdrop of crisis phenomena, sales will decline due to sluggish demand caused by the coronavirus and the problems it brought.
As a result, producers lost two ways to compensate for losses due to the devaluation of the ruble: they can neither lower the cost of grain, nor sell it more at the previous price.
Loss of global market share threatens domestic farmers with downtime
equipment
and equipment, and, as a result, the loss of technological level and sown area. About the voluntary delivery of foreign markets to competitors has been said above.