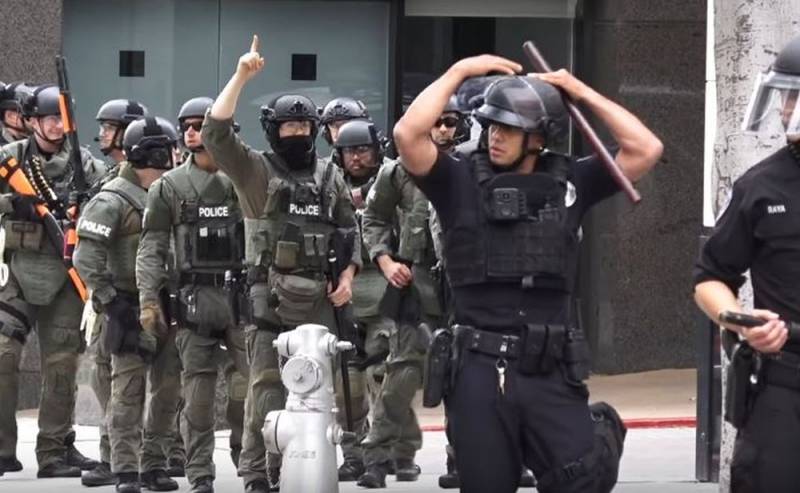 After the pogroms in the USA began, the image of this country began to collapse literally before our eyes. The Poles were disappointed in Washington, and it was time for Warsaw to think about whether it was possible to pin their hopes on a safe future for the United States, writes the daily newspaper Rzeczpospolita from Poland.
The publication draws attention to the fact that pogroms in US cities are taking place against the backdrop of the COVID-19 pandemic raging in the country, when the number of infected people is already approaching 2 million, and the number of deaths exceeds 107 thousand.
It is clarified that earlier the public would be shocked by the very sight of the burning cathedral in Washington, which was visited by all US presidents for 200 years. However, now this picture only competes with many other similar ones.
The newspaper notes that in the United States there is a huge social inequality and serious stratification in society, which only worsen over the years. This is confirmed by numerous documentary evidence in the form of photos and videos from venues in the United States. They literally scream that many citizens are just waiting for a convenient moment to begin to destroy, set fire to, rob and loot. In addition, there are those who are directly interested in spreading chaos, fear and undermining statehood in the United States.
This is the album about modern America. The image of the United States, the center of Western civilization, is crumbling before our eyes. It is difficult to predict whether Washington will be able to restore its former prestige. But perhaps it's time for Poland to ask the question: "Can all the hopes connected with our future and security be placed on the United States?
- summarizes the publication.
We remind you that earlier the European Union
condemned
US government violence against citizens, and German media called US President Donald Trump a dictator. At the same time, Russian Senator Alexei Pushkov
predicted
what will end the riot of the black population of the United States, which began after the public killing of an African American policeman in Minneapolis (Minnesota).