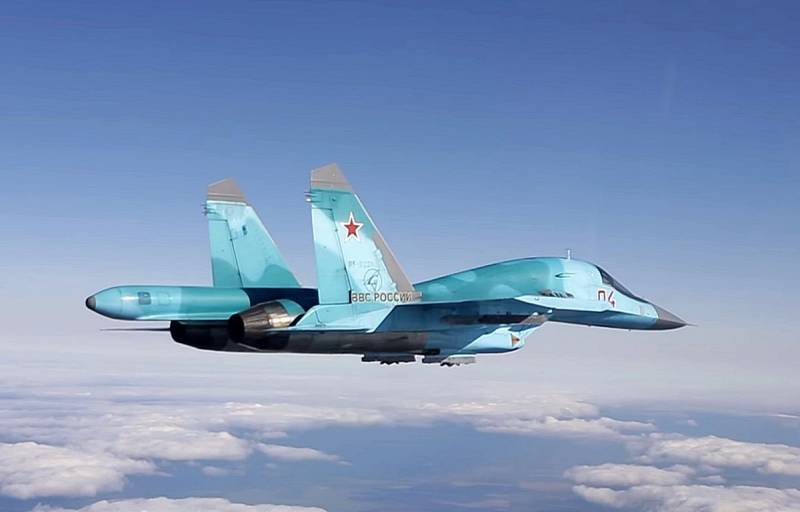 Five years ago, a Turkish F-16 fighter shot down a defenseless Russian Su-24 in the sky over Syria. Now the Russian Aerospace Forces plan to acquire 34 new supersonic fighter-bomber Su-34, which can stand up for themselves. About this writes the American edition of Forbes.
The Su-34 has a 30 mm caliber gun, the Khibiny electronic warfare system, and a modern multi-mode radar. There is a double cabin on the plane, but the pilots are not sitting next to each other, but next to each other - this is a distinctive feature of this combat vehicle. The bomber can take on board 12 tons of missiles and bombs and is capable of attacking objects within a radius of 970 km. The head of the United Aircraft Corporation Yuri Slyusarev emphasizes that the combat capabilities of the upgraded Su-34M will increase significantly.
Moscow sent Su-34 bombers to Syria at the end of 2015, shortly after the Turkish Air Force attack against the Russian Su-24, which is believed to have crossed the Turkish air border. Su-34 - a cruel aircraft that was used to strike at Syrian civilians and hospitals
- claims Forbes.
It is expected that by 2030 the Russian Air Force will have two hundred Su-34 bombers. According to assumptions, by 2027 the military industry of the Russian Federation will produce from 8 to 14 such combat aircraft per year.
We'll add that the American press does not miss the opportunity to add a fly in the ointment in almost any
news
related to Russia. The goal is to denigrate our country, and in choosing the tools for this, journalists are not guided by the truth, nor even morality. The Russian Su-34, which allegedly "attacked Syrian civilian hospitals," is a bad, cruel plane, and the American F-16, which actually bombed Belgrade hospitals, is a kind of dove of peace that carries freedom and democracy on its iron wings.