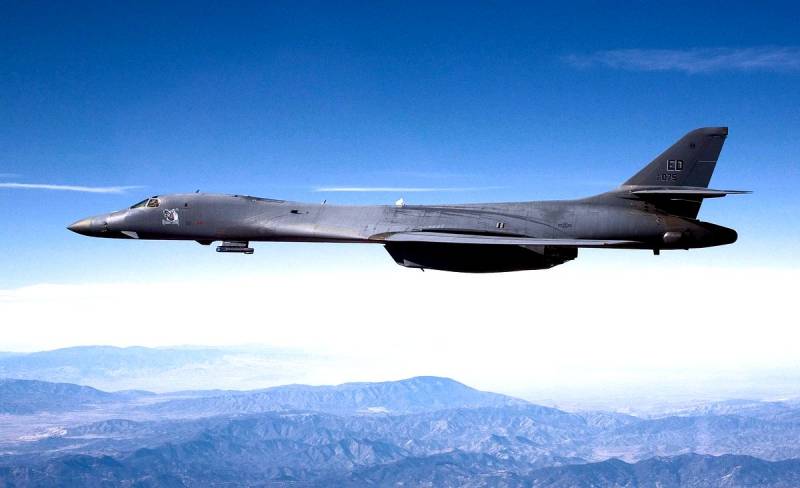 NATO Aviation continues to "circle round" around Crimea. The American P-8A Poseidon anti-submarine aircraft have long been regular uninvited guests near Russian borders. Now they were joined by the British air reconnaissance Raytheon Sentinel R.1.
What is it that interests Anglo-Saxons on the peninsula?
At the end of last year, two U.S. Air Force strategic bombers B-52H Stratofortress took off from an air base in the United Kingdom, flew to the Black Sea, and there one of them simulated a nuclear attack on the Crimea. Nearby, in the sky, the P-Poseidon reconnaissance aircraft was spinning.
Now the situation has repeated itself, but on a large scale. A pair of supersonic Rockwell B-1B Lancer bombers rose from an airfield in the United States in South Dakota and made a non-stop flight to the Black Sea. Over the territory of Poland, American aircraft were escorted by F-16C / D and MiG-29 fighters provided by Warsaw, over Ukraine - Su-27 and MiG-29. Further, over the Turkish territory, their safety was provided by the F-16C / D, and air refueling was also carried out. Romania allocated its F-16AM / BM and MiG-21 for escort. Bombers were able to return to the United States after the second air refueling.
It looked pretty impressive, one wonders what they wanted to achieve with this step at the Pentagon.
At first
, in the territory of Crimea, whose property is disputed by Ukraine, which is striving to join NATO, a large military group of the Ministry of Defense of the Russian Federation is concentrated, and our Black Sea Fleet is also deployed. With each such uninvited visit, the peninsula's air defense system is forced to engage. The nearby American P-8A Poseidon, and now the British Raytheon Sentinel R.1, record how Russian long- and medium-range radars react, whether there are "holes" in the air defense system, what is the reaction rate of the Russian Air Force squadrons raised for "distillation" »Aircraft of the potential enemy. All this is very valuable military information, and it is very unpleasant that Great Britain, which the former laurels of the "mistress of the seas" obviously do not give rest, actively joined in these games.
Secondly
This uninvited visit obviously serves the purpose of "rallying and unity" within NATO within the Eastern European countries and candidates for joining the alliance. If I may say so, Washington seeks to "cover everyone up."
Thirdly
, such a non-stop fly-around of Crimea directly from the territory of the USA should clearly demonstrate how "long arms" the "hegemon" has. So to speak, for psychological intimidation of the weak in spirit.
In general, that's all unpleasant. There is a gradual and constant escalation of military tension on the part of NATO around the most difficult areas - Crimea, as well as Kaliningrad, another problem point on the map. The United States itself is provoking Russia to further strengthen its southern and western outposts.