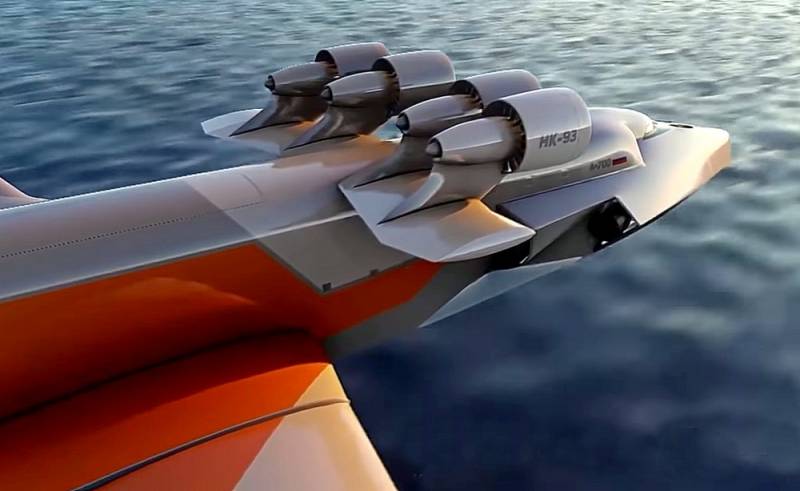 The Russian multi-purpose ekranoplan A-050 Chaika, which is due to be commissioned later this year, has been dubbed the successor of the Caspian Monster in the press. The once formidable, but "buried alive" Soviet ekranoplan "Lun" can find a new life in more modern forms. But is modern Russia needed?
The need for the creation of such "hybrids" arose for the first time back in the 60s of the last century, when heavy anti-ship missiles appeared in the USSR. At that time, equipping long-range bombers with such weapons was impractical because of their limited carrying capacity, and the ships did not fit due to the low speed. So, the Soviet designers had the idea of ​​creating a "flying ship", the testing of which in the mid-60s caused a real panic in the Pentagon.
By 1972, the USSR had already created a serial landing ekranoplan "Eaglet", capable of transferring up to 200 marines or 2 armored vehicles at a distance of up to 1500 km, while developing a speed of up to 400 km / h. Then, in 1983, the legendary Lun was created, created on the basis of the Caspian Monster project. The ekranoplan, armed with six Moskit anti-ship missiles and capable of launching them on the go, could become a formidable weapon, but in the end fell victim to the Gorbachev regime.
The modern A-050 Chaika is capable of carrying up to 9 tons of cargo or transporting up to 100 people at a distance of up to 5000 km, while developing a speed of up to 450 km / h. It is assumed that the ekranoplan can be equipped with a supersonic Indian-Russian missile PJ-10 BrahMos (version of the Onyx). However, is the resurrection of the "Caspian monster" relevant in our time?
The Russian caliber "Caliber" confidently hits targets at a distance of 1500 km, and the aviation hypersonic "Dagger" will reach 3000 km altogether. Consequently, the need for percussion machines like The Seagull today is very controversial.
However, there is a positive point: the magnificent idea of ​​Soviet engineers did not "die" with the USSR. So, the developments used in the modern version of the "Caspian Monster" can still be implemented in a completely different direction.