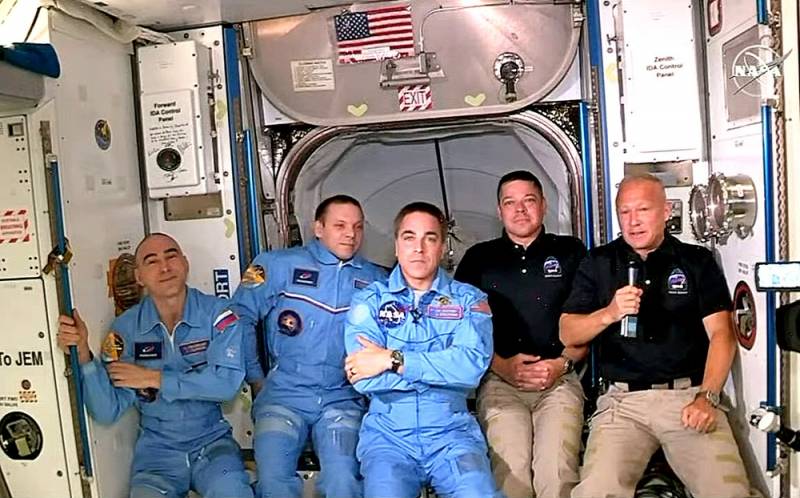 American astronauts Dag Hurley and Bob Benken (right) moved from the Crew Dragon to the ISS. They were met by US astronaut Chris Cassidy and Russian cosmonauts Anatoly Ivanishin and Ivan Wagner. Thus, the launch of SpaceX's latest spacecraft has been recognized as fully successful.
What conclusion can be drawn from this whole story? Yes, for the past 9 years, Americans have been forced to fly into space on the Russian Soyuz, but while we proudly used the legacy of the great space industry of the USSR, US private business launched several promising programs at once. This and SpaceX with its Falcon 9 launch vehicles and heavy
Falcon Heavy
this and the Blue Origin with a heavy rocket
New glenn
as well as a suborbital ship
New shepard
this is Virgin Galactic with her spaceship
SpaceShipTwo
Boeing with his ship
Starliner
, and a number of other companies and projects.
Elon Mask, no matter what he says, managed to create a truly revolutionary model for sending astronauts and cargo into space. The return stages of Falcon series launch vehicles, the ultra-modern Crew Dragon spacecraft, spacesuits for astronauts, as if taken from the fantastic movie Interstellar ... Add to this, albeit unsuccessful, but still ongoing trials of the promising Starship heavy ship, which created to colonize Mars.
We are still flying on Soyuz ships, albeit modernized, but still in the 60s of development. The same applies to the launch vehicle, the family of which originated more than 50 years ago.
Someone will say: flies, well, okay ... The main thing is reliability! However, space has always been and will be a place of advanced
of technologies
, and it was here that we managed to fall behind. It is good that so far only from the USA, because China is also developing its space programs with leaps and bounds. Recently Beijing
запустил
a modern heavy-class rocket Long March-5B, and a year earlier it landed its lunar rover on a natural satellite of the Earth.
Roskosmos, meanwhile, can offer nothing but vague promises. Spaceship
"Federation"
(aka "Oryol") has been under development for 11 years, and the first manned flight is scheduled as early as 2025 ... Keyword - scheduled ...
The Angara launch vehicle, which was supposed to be "our all," doesn't really fly. Commercial exploitation of a middle-class launch vehicle
"Irtysh"
(she is Soyuz-5), according to all the same promises of Roskosmos, will begin no earlier than 2024. About the superheavy rocket
Yenisei
and do not have to say at all yet - this is the prospect of the 2030s.
The fact that in the coming years the Americans, and possibly even the Chinese, will break ahead in the number of commercial missile launches into space can hardly be called into question. Russia will inevitably lose the lion's share of the market, because the most important thing is lost - time. It's possible to make it up, however, not today and not now.