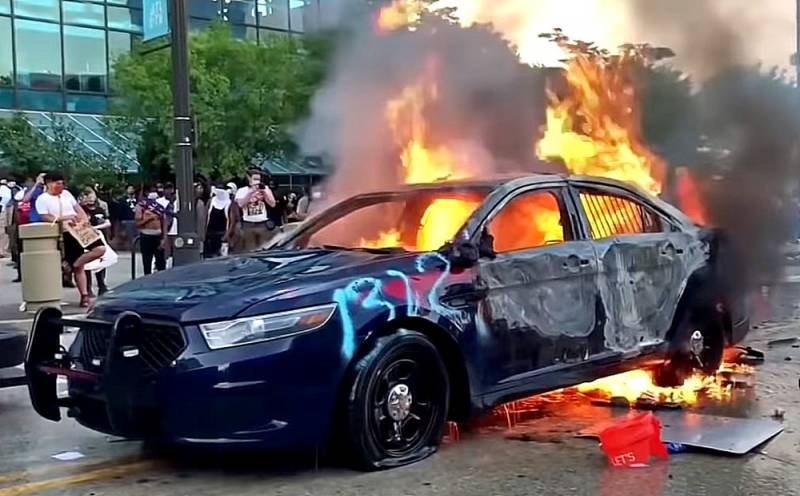 Residents of China reacted to anarchy and unrest in the city of Minneapolis (USA), writes the Chinese daily Huanqiu Shibao (Global Times).
Because Americans 'protest in Minnesota reminded them of the 2019 Hong Kong riots against police action, many Chinese netizens called it" a spectacular sight. " Indeed, that is exactly what the Speaker of the US House of Representatives, Nancy Pelosi, called what was happening then in Hong Kong. The Chinese ridiculed the double standards of the Americans and wished for more "beautiful shows" by the United States.
Riots in Minneapolis started after a policeman on May 25, 2020
strangled
black man. A day after the incident, riots broke out. Angry crowds burst into stores and set fire to buildings. On May 28, they burned down a police station, and law enforcement officers used tear gas against protesters. The mayor declared a state of emergency, and Minnesota sent more than 500 National Guard fighters to Minneapolis. On May 29, US President Donald Trump called the protesters "thugs" and threatened them with "executions."
Photos and videos of the fires, as well as police using tear gas, spread across Chinese social networks. Many users sarcastically joked about US double standards. In their view, China can now do in Hong Kong what the American authorities in Minneapolis will do. At the same time, Washington has no right to criticize Beijing for suppressing Hong Kong protests.
Chinese users called on Hong Kong residents to look at the United States, whom they asked for help a year ago, and some demanded to call the US ambassador and give him a note of protest or even put what was happening in Minneapolis on the agenda of the UN Security Council.