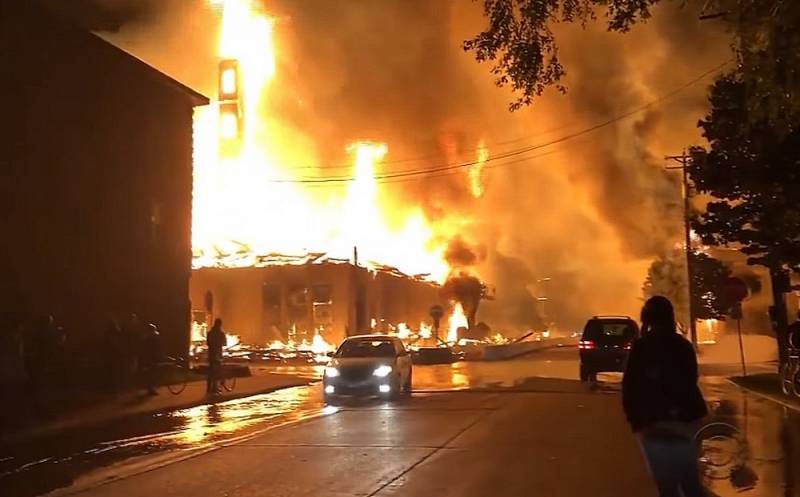 In Minneapolis (Minnesota), riots have been going on for two days due to the murder of George Floyd - an African American died during police detention. Protest demonstrations turned into pogroms, an emergency mode was introduced in the city.
On May 25, police detained Floyd for using forged documents. The police officers handcuffed George and applied a painful technique - one of them pressed his knee on the citizen's neck. Floyd said that he could not breathe, but this did not affect the tormentor. After a few minutes, the unfortunate passed out. He later died in the hospital.
The police disowned the actions of those who detained Floyd - the police simply fired. This did not suit the public, and people took to the streets.
It all started with demonstrations, but they quickly grew into riots and pogroms of shops, in which several hundred people took part. Unknowns opened fire from military weapons. The newspaper Star Trubune reports the death of one person. The fighters of the US National Guard, as well as the FBI, joined the case.
The riots cover all the new cities and states of the country, and the United States was actually on the brink of civil war. So, in New York detained about 40 participants in mass rallies that broke out after the death of George Floyd. The demonstrators find various piercing and cutting objects. The detentions began after protesters hit a police officer with a box on the head during illegal actions. Four police officers were injured in local hospitals.
According to the American media, the unrest also swept Los Angeles (California), Albuquerque (New Mexico), Denver (Colorado), Louisville (Kentucky).
In Louisville, seven people were injured while shooting during mass rallies due to another case of police lawlessness against black citizens. Protests began in response to the murder in March of 26-year-old Breonna Taylor - she was accused of possession of drugs. Police broke into the woman's house in search of prohibited substances, but found nothing.