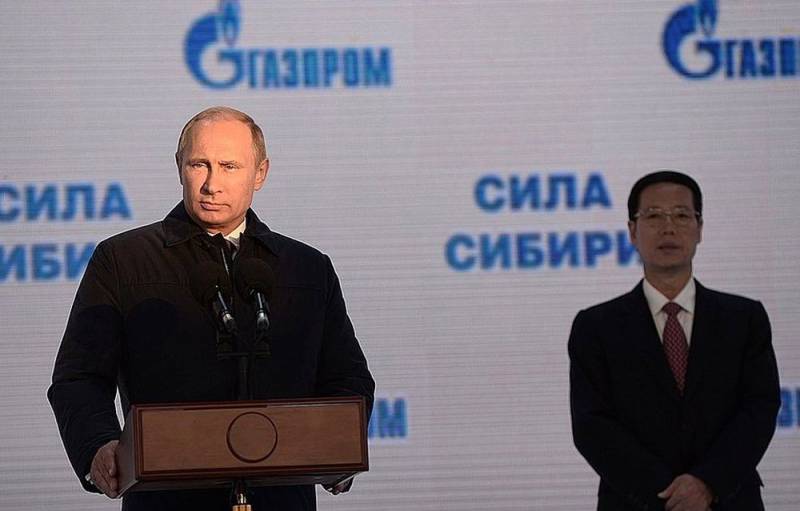 PJSC Gazprom faced big problems due to major miscalculations in the development of the Chayandinskoye field. As a result, it may incur losses of 1,5 trillion rubles. and harm Russia's relations with China.
The Power of Siberia gas pipeline was commissioned in December 2019. According to a 30-year contract worth $ 400 billion, Russia should supply 38 billion cubic meters to China. m of gas per year.
At the disposal of the publication
"Lenta.ru"
it turned out several internal documents of PJSC Gazprom and Gazprom dobycha Noyabrsk. After that, the media conducted an investigation and came to the conclusion that the project was on the verge of collapse, since there is not enough gas in the field being developed to fulfill all of Russia's obligations to China.
It is noted that such a situation was caused by "a rush with exploration, systematic negligence and criminal forgery committed by company leaders, regular disregard for technological violations, the consequences of import substitution" and even "the great Russian maybe and its terrifying consequences."
The investigation said that the deputy head of the 307th department of Gazprom PJSC Andrei Filippov and the chief geologist of Gazprom dobycha Noyabrsk Dmitry Izosimov "tried to deceive the state and the management" of the company in order to hide the scale of the problems in developing the indicated field, which is the resource base for " Forces of Siberia. "
Moreover, Vyacheslav Shchegolev, one of the engineers of PJSC Gazprom, has repeatedly paid attention to the fact that the field has little power for planned filling of the gas pipeline. So Chayanda is already working to the limit.
As for possible losses, the amount mentioned was as follows. 500 billion rubles. - these are 34 "dry" wells, their repair and lost profits provided for by the contract. Another 1 trillion rubles will need to be invested in the creation of the new Power of Siberia-2 gas pipeline (originally called Altai), which will have to fuel the Power of Siberia.
In turn, Gazprom announced that the Power of Siberia had no problems.