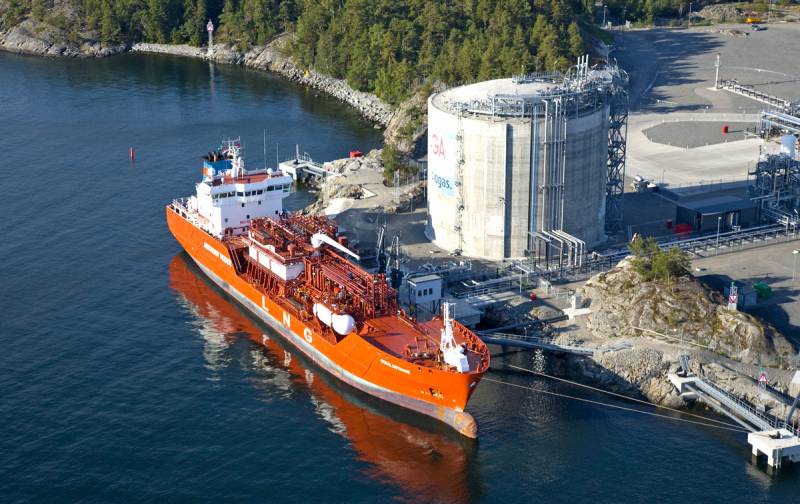 Ukrainian authorities have approved the signing of a memorandum with LNG supplier from the United States Louisiana Natural Gas Exports on the delivery of liquefied natural gas, as well as on the development of gas transportation infrastructure with Poland.
Acting Head of the Ministry of Energy and Environmental Protection of Ukraine Olga Buslavets told the agency
Interfax-Ukraine
that the document of intent involves the study of the possibilities of various ways of long-term supplies of liquefied natural gas to Ukraine and the development of cross-border infrastructure of the countries of the European Union and Ukraine for the delivery of LNG.
According to the deputy of the Verkhovna Rada Alexey Goncharenko, the memorandum provides for the transportation to Ukraine of about 5,5 billion cubic meters of fuel every year for 20 years. The price of gas will depend on its quotes on the Henry Hub exchange. Governmental organizations in Europe and the United States will be able to participate in the financing of supplies.
Thus, Ukraine has taken a step towards rejecting the supply of "blue fuel" from Russia.
С
economic
in terms of this, this will mean the entry of the Ukrainian state into a chain from gas production in the United States to its delivery to European consumers. It takes two to three years to launch a project. It is planned to supply gas through Poland - for this purpose a gas pipeline will be organized between the Polish fuel hub Germanowice and the fuel storage in Ukraine in Bilce Volice
- noted the Deputy Minister of Energy and Environmental Protection of Ukraine Konstantin Chizhik.