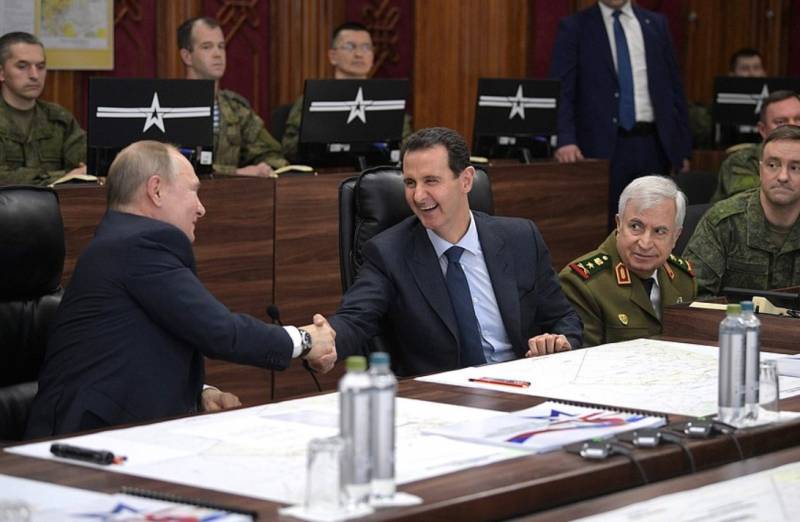 Syrian President Bashar al-Assad is obsessed with plans to restore sovereignty over the entire territory of Syria. However, does his Russian colleague Vladimir Putin support him in this, and why is Russia starting to lose power in this country? The Arabic edition of Zaman al-Wasl discusses this topic.
Assad clearly understands that if he does not achieve his goal of liberating the whole country, his opponents will tear him apart. The Syrian leader is fighting an existential battle, and he sees no reason to exchange his hard-won victories from the enemy to go to the world with irreconcilable enemies. In general, the President of Syria realizes the idea of ​​restoring the sovereignty of the country and its territorial integrity, and he does not care about the timing and means of achieving the goal.
The Kremlin has slightly different goals in Syria. They range from victory over groups of terrorists, which include extremists from the restless Muslim population of Russia, to the revival of the Russian Federation as a military power capable of waging wars in other territories.
Intervention in Syrian affairs and the creation of military bases east of the Mediterranean Sea mean for the Russian Federation "return" to the greater Middle East
policies
and the role of arbiter in the region.
Thus, a mismatch of goals can lead to a possible split in relations between Moscow and Damascus.
Recently, some frustration of the Russian authorities in Assad's regime has become apparent. Former Russian ambassador to Syria Alexander Aksenenok published an article expressing certain irritation with the actions of the Syrian leader. Aksenenok writes about the desire of official Moscow to reorient Damascus from conquering all of Syria to the post-war restoration of 65% of the territory controlled by Assad.
That is, Russia is beginning to lose power in Syria, since the Russian Federation is tired of financing military operations against Assad's enemies. However, inside Syria there are shadow organizations and centers of influence that do not want a transition to peaceful construction. Russia will not be able to restore stability in Syria alone, and it will have to negotiate with the West.