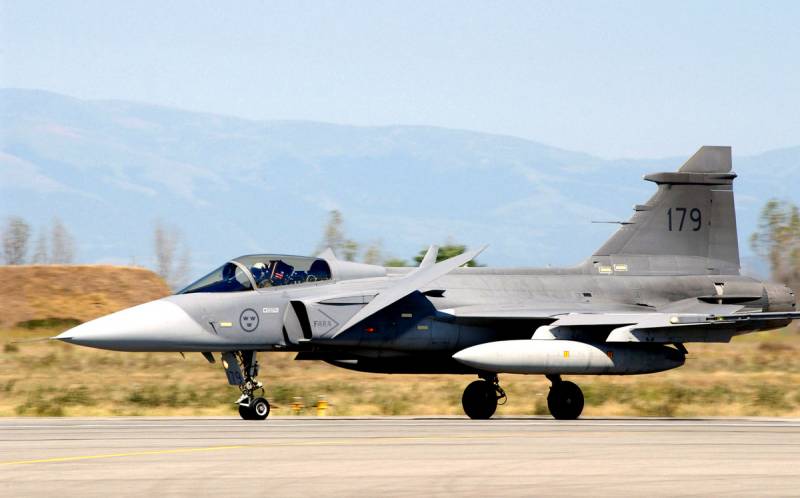 Ukraine is preparing for war in the air. Where and with whom is not difficult to guess. By 2035, the command of the Air Force Nezalezhnaya intends to completely upgrade its fleet and air defense system, getting rid of the "Soviet legacy" and moving on to the "right" Western weapons.
What will come out in practice from this venture of Ukrainian strategists?
Let's face it, in possible theaters of war Russia today dominates the Ukrainian Air Force. Those have a little less than two hundred Su-24 and Su-25, Su-27 and MiG-29 in total. There is a big question about the level of training of their crews: to bomb peaceful cities and fight in the air with enemy fighters - these are two different things. So, let's see what Kiev wants to get in 15 years.
By that time, the Air Force plans to have four brigades equipped with multi-role fighters of the 4 ++ generation, certainly foreign-made. The American F-16 Block 70/72 or the Swedish Saab JAS-39 Gripen (pictured) are named as preferred options. In total, it is planned to purchase up to 108 aircraft.
It is planned to add to the fighters a well-proven unmanned strike and reconnaissance aircraft, having formed four regiments from an UAV, as well as a military transport brigade. Ukrainian pilots will fly to study on the Italian M-346 and Chinese L-15. Radical defense system will be radically transformed. Instead of Soviet air defense systems, Norwegian mobile NASAMS, European SAMP-T air defense systems or American Patriot should appear.
In general, Kiev is ready to support manufacturers of countries belonging to NATO with a dollar. The famous Antonov airline is not planned to be used in any way. By the way, about dollars. The renewal of the fleet at the expense of foreign aircraft and UAVs is estimated at about 10 billion dollars. Another 6,5 billion will have to be laid out on air defense troops. Total is obtained at the start of 16,5 billion dollars. Good appetites for a country that is forced to beg for a much smaller amount from the IMF in exchange for the sale of its unique chernozems.
Of course, NATO partners would gladly sell fighters, UAVs and air defense systems to Ukrainians, but Kiev does not have and will not expect such money, and that's just the Air Force's needs. Recall that Ukraine still intended to become a great sea power, but so far has cost a few boats. All defense budgets are devoured by the disproportionately large land army for the impoverished country, which Nezalezhnaya holds in the Donbass and near the Russian border.
It is clear that all this is projecting and "designation of intentions." Nevertheless, the "Vision of the Air Force 2035" testifies to an extremely unfortunate phenomenon: Ukraine continues to move farther away from Russia, not wanting to have anything in common even in armaments, standardizing with the NATO bloc.