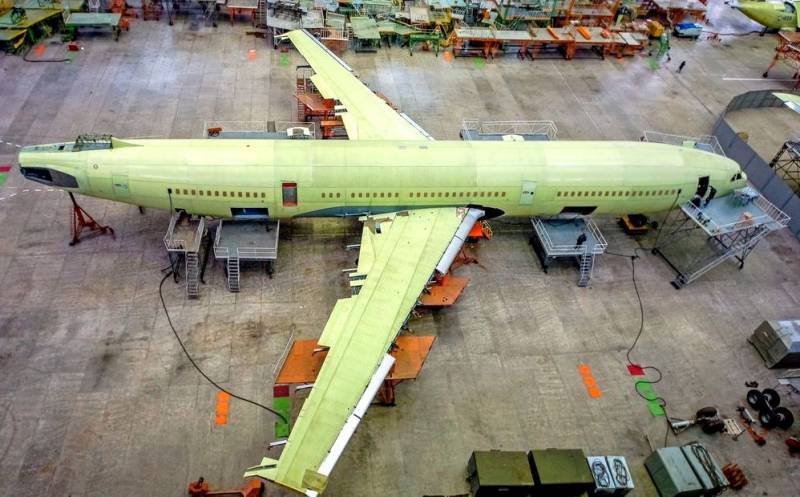 The assembly of the first Russian wide-body long-range passenger IL-96-400M is nearing completion, writes German magazine FLUG REVUE, one of the leading European media on civil and military aviation.
In January 2020, at the Voronezh aircraft factory in the final assembly workshop, they began to assemble the first copy of the IL-96-400M. According to the director of VASO PJSC Alexander Yarchevsky, the assembly of the fuselage and wing is completed, and then the tail section and engine pylons will be mounted. Now the main systems of the future airliner are being installed. The assembly is planned to be completed closer to the end of 2020. Then the UAC will begin ground testing and in 2021 the IL-96-400M will go for flight tests.
IL 96-400M is a modernized version of the IL-96-300 of the late 80s. It has become longer by almost 10 meters. Most of the components taken from the cargo IL-96-400T. It is specified that the IL-96-400M will be equipped with new Russian avionics and four PS-90A1 aircraft engines.
The airliner should become almost completely Russian. The share of foreign components will not exceed 10%. The installation of foreign engines is out of the question. By 2024, Russia will also have the PD-35 aircraft engine from JSC UEC-Aviadvigatel. They can be installed in 2 pieces on the IL-96-400M instead of 4 PS-90A1.
With four aircraft engines, the Russian airliner is unlikely to compete with the Airbus A350 or Boeing 787, but the Russians are not looking for it. Buyers of the IL-96-400M will be countries that suffer from Western sanctions and are unable to update their airline fleet.
For example, Cubana de Aviación, the national airline of Cuba, and Air Zimbabwe, the national airline of Zimbabwe, have already shown interest in the IL-96-400M. It cannot be ruled out that interest will be expressed in the DPRK and Iran, whose citizens still fly on 20-40-year-old aircraft.
Do not forget about Russian carriers. Given the vast expanses of Russia, such an aircraft will be in great demand, for example, on the routes Moscow - Vladivostok, or in southern cities during the tourist season.