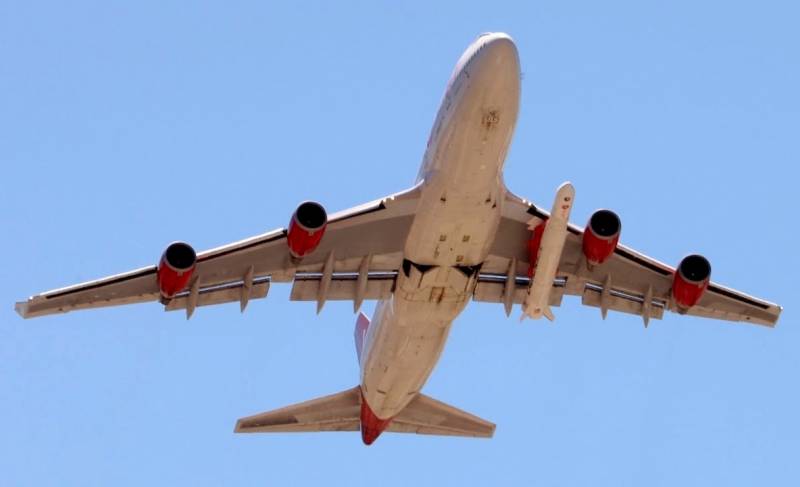 The American company Virgin Orbit failed the first flight tests of its LauncherOne rocket, which starts from under the wing of the aircraft.
May 25 at 21.56 (Moscow time) modified Boeing 747 Cosmic Girl took off from the aerospace port of Mojave (California) with a rocket mounted on a pylon under the left wing. The discharge of the two-stage LauncherOne occurred over the Pacific Ocean, 150 km from the coast. 3 seconds after undocking, the rocket had to start the engine of the first stage, and after about 30 minutes the second stage with the payload was supposed to go into a given orbit. However, shortly after launch, Virgin Orbit announced that the tests had failed.
Recall that the development of the LauncherOne light class carrier began back in 2005. It is assumed that a two-stage rocket will be able to put into a low orbit up to 500 kg of payload. At the same time, thanks to the "air launch" scheme, the rocket manages to bypass the first 10 km of altitude with the highest atmospheric density, which can significantly save on fuel.
For the first time, a Boeing 747 Cosmic Girl with a rocket under its wing took to the skies in 2018. Then, already in 2019, the carrier reset was tested without turning on the engines. The tests that took place the day before should have been final, but something went wrong.