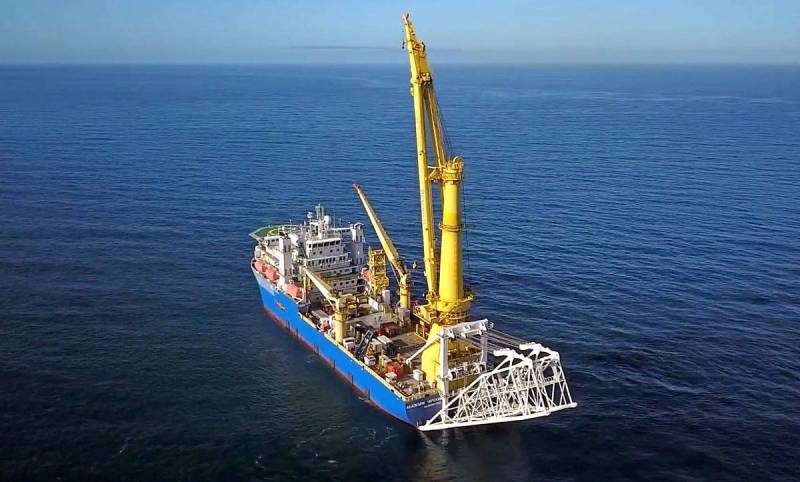 The Russian special pipe-laying vessel Akademik Chersky arrived in the area of ​​Bornholm Island, to the place where the "ends" of the Nord Stream-2 gas pipeline lie under the Baltic Sea. However, this does not mean at all that the infamous second line of the pipeline will be built, especially in the near future. Experts hired by the Danish publication Jyllands-Posten talked about a new look at the epic "Academician Chersky" and the goals of his idle movements.
Distraction
According to experts, Russia is not the USSR, it does not have the influence and independence that its predecessor had. Moscow is afraid of Washington's sanctions. No matter how officials in the Kremlin flaunted their muscles and statements, one has to take into account the pressure factor from overseas. Especially in the era of the global crisis.
Experts note that Gazprom lost the legal "battle for the pipe" in Europe (applying the EU gas directive and rejecting the appeal), but it drove the pipe-laying vessel to the place where the ends of the pipeline were "buried". The long voyage of the "Academician Chersky" is started in order not to weaken for a second the attention of the whole world, riveted to the scandalous pipeline.
In this way, Gazprom is trying to save the rest of its business and projects, testing the patience of American lawmakers, who promised to introduce new ones.
economic
restrictions not only for SP-2, but also against any country that wishes to participate in completion or to receive fuel from the highway. Moscow confused ship movements and imitation of the activities of the pipe layer, trying to provoke Washington in retaliation.
Simply put, SP-2 is sacrificed, because at the present scanty demand and low gas price, Gazprom does not need a pipeline at all.
How did you outwit the USA
All of these convulsive movements of Gazprom, which is suffering enormous losses on all fronts, brought the company one modest but significant victory. Last week, it became known that the first line of the Nord Stream pipeline was removed from the EU gas directive. Legal disputes on this issue have been completed in favor of Russia.
Experts note that Gazprom was able to squeeze the most out of the situation - to get a fully operational pipeline with maximum load without additional investment without new sanctions. So, the "Nord Stream-2" lying dead weight has already paid for itself in some way, fulfilling its unusual role perfectly, analysts summarized.