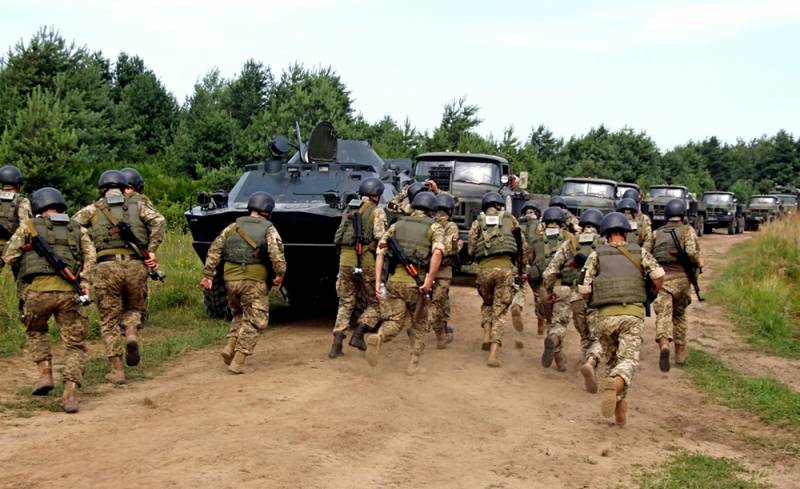 When Vladimir Zelensky became president of Ukraine in May 2019, many hoped that the war in the Donbass would end soon. A year has passed, negotiations in Minsk have reached a deadlock, and another aggravation is observed in the Donbass. But for most experts, regardless of affiliation and public rhetoric, what is happening is understandable, understandable and predictable.
The current Ukrainian authorities are not going to voluntarily implement the Minsk agreements for obvious reasons. For them, the return of the territories of Donbass, in the form of the existing DPR and LPR, is fraught with catastrophic consequences. This will mean the end of the country's banderization and the construction of Anti-Russia.
Deputies from regions will appear in the Rada, where people with weapons in their hands defended their rights, which will become an example for others. Residents of the DPR and LPR (no matter what these entities will be called in the future) will be able to vote in the elections, which is almost two million voters who are negative about the processes that have taken place in Ukraine over the past six years. And they will have to be reckoned with. At the same time, the recent elections have clearly demonstrated that frank Nazis already have extremely low voter support. Therefore, for many Ukrainian "patriots", the implementation of the Minsk Agreements is literally like
political
death and nothingness.
A large-scale offensive by the Armed Forces is also unlikely, since the DNI and LC have more than enough forces and means to repel aggression. After this, the territory of the DPR and LPR can even expand to the administrative borders of the Donetsk and Lugansk regions, the images of which appear in every state institution of the Republic. Moreover, the loss of these territories could lead to a collapse of Ukraine.
At the same time, it makes no sense for Russia to directly get involved in this. After six years, nothing has changed for Moscow, so there is no need for it to become a party to the conflict. The people's militias of the Republics are able to independently force Kiev to peace. Moscow's hands will only be untied if Kiev officially refuses to comply with the Minsk agreements, discrediting itself in the eyes of the imputed part of the international community. Although many in the West are sure that it is Russia that must comply with the Minsk agreements and put pressure on Moscow.
That is why Kiev regularly arranges escalation in the Donbass. This makes it possible to extend the existing situation for a while.