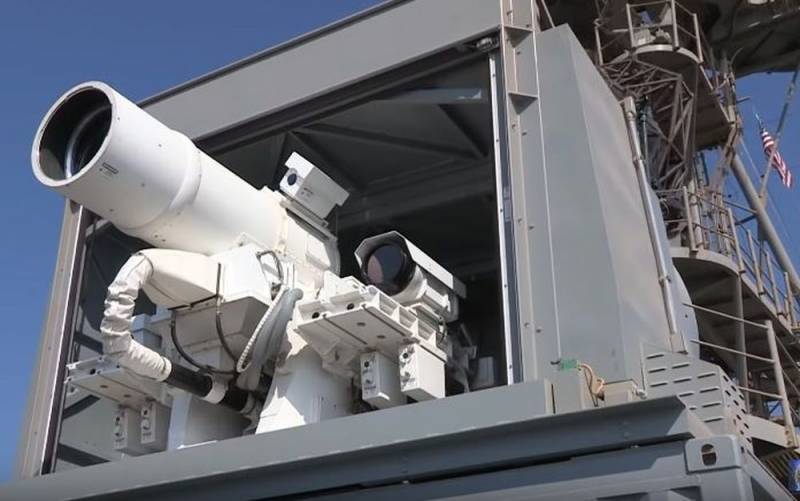 The use of combat lasers is very limited. This was stated by military expert Konstantin Sivkov, who named the weaknesses of the American laser weapon,
Test
which was recently held by the US Navy.
It should be noted that before this, the Pentagon demonstrated how the tests were carried out in the Pacific Ocean, not far from the Pearl Harbor military base. The Americans installed a solid state laser weapon system (Solid State Laser Weapons System Demonstrator) aboard the USS Portland landing ship dock (LPD-27, San Antonio class) and shot down an unmanned aerial vehicle with it. Now Sivkov commented on the American video for
RIA News"
.
For modern laser weapons, ideal weather conditions are necessary, which are extremely rare in the sea, so the possibilities of laser weapons in a naval war are currently extremely limited
- considers Sivkov.
In his opinion, combat lasers can only be used under certain conditions, and only to disable various optoelectronic systems. Laser weapons cannot be used effectively to destroy air targets.
He noted that a demonstration video of the US military was filmed in the southern latitudes under ideal weather conditions. The expert emphasized that only in such circumstances can an unmanned aerial vehicle or other flying aerial target be shot down. But such weather conditions simply do not exist in the northern latitudes.
Sivkov explained that splashing waves and even a little haze or cloudiness reduce the effectiveness of laser weapons, since the beam has the properties of scattering. The expert added that since the beam in the video shown was aimed at the drone for a considerable period of time, the laser's energy efficiency is rather low.
In addition, the drone absolutely did not oppose the impact of the beam. So it's not necessary to say at all that the Americans will be able to shoot down Russian ICBMs with this laser weapon, which need to be affected for a much longer period of time than the indicated drone.