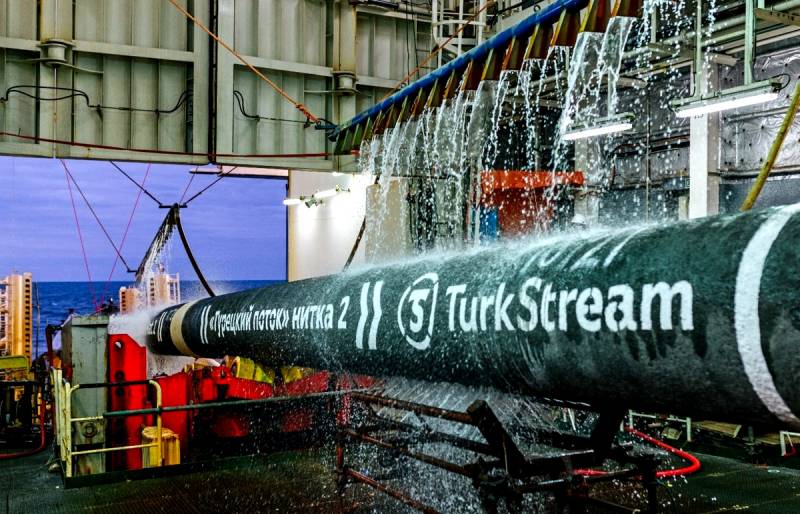 Deliveries of Russian "blue fuel" to Turkey decreased by more than 14 times. Such data are provided by the Federal Customs Service. Moreover, the decline in consumption continues. The editors of the Bulgarian newspaper Expert (Sofia) write about the rapidly deteriorating prospects of Turkish Stream.
Course on a complete rejection of fuel from the Russian Federation?
According to the authors of the study, Ankara has recently preferred to import liquefied fuel, which is much cheaper than Gazprom raw materials. Thus, over the half-empty Turkish Stream pipeline, which was recently opened and cost Russia 7 billion euros, there is a danger of a complete stop of pumping: it loses its "strength" exponentially.
The Black Sea "direction" of Russian concern's exports has seriously sank. Deliveries for state-owned Botas and private Turkish operators fell to an insignificant 200 million cubic meters. For example, over the same period last year, the volume of gas pumped through two main pipelines to Turkey amounted to at least one and a half billion cubic meters. And in 2018, Ankara bought almost 3 billion cubic meters per month.
According to experts, in the ranking of important customers of Gazprom, Turkey fell from second place to a dozen positions down. Now it consumes almost as much as Armenia or Lithuania.
Gazprom ruins Russia
In March of this year, a kind of anti-record was recorded on supplies of "blue fuel" to Turkey: the transport capacities of the Russian company were only 11% loaded. But Ankara LNG imports showed a 45% increase.
According to experts, search
political
the background in such a sharp change in Turkey's energy import priorities is not worth it. It's all about the price. Even after a decrease in cost, Russian fuel is estimated by the seller at 103 dollars (cost limit is 90 dollars).
At this very time, the Dutch spot exchange offers customers gas deals at $ 53 per cubic meter. In fact, Russian production is now operating beyond efficiency and further price reductions will only lead to serious consequences for the Russian budget, as the country's main exporter is already operating at a loss.
As a result, experts come to the conclusion that this state of affairs will not only bury Turkish Stream, but also make the entire Black Sea export direction of Gazprom absolutely unprofitable.