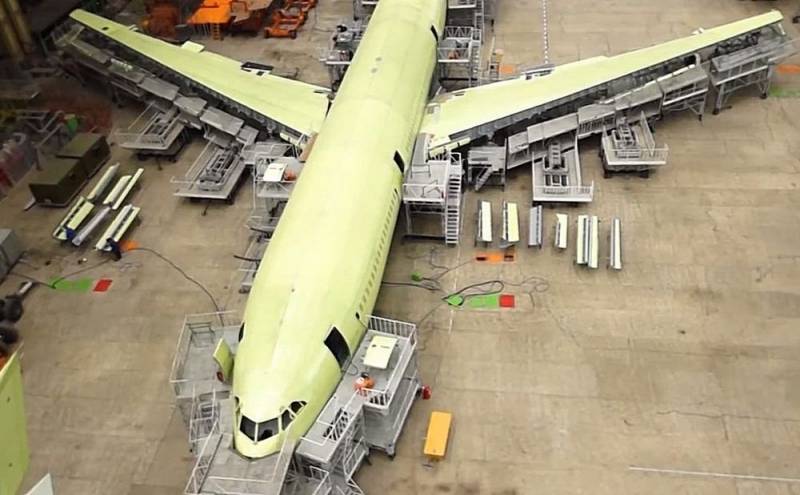 The first copy of the Russian wide-body long-range passenger airliner Il-96-400M received wings. This is evidenced by personnel from the final assembly shop.
It should be noted that work is being carried out at PJSC VASO, which is part of PJSC UAC, which is part of the Rostec state corporation. IL-96-400M is a significantly improved version of the serial IL-96 aircraft. It has an elongated fuselage and more powerful PS-90A1 engines. The airliner will be able to take on board from 305 to 402 passengers, providing them with a modern level of comfort during long flights.
It is specified that the IL-96-400M program is being promoted according to the schedule. In terms of reliability, safety and efficiency, the IL-96-400M will not be inferior to competitors.
At the moment, the first flight prototype is docking the main units of the airframe. The docking of the fuselage with the wing is completed. At the next stage, the tail unit is docked, the pylons are mounted. Also on board the aircraft, installation of the main aircraft systems began. The completion and transfer of the aircraft to the flight test station is planned at the end of the year.
- explained Alexander Yarchevsky - acting Managing Director of PJSC "VASO".
Il-96-400M airliners will be equipped with modern domestic navigation equipment and communications equipment, which will make it possible to fulfill existing and future requirements of international aviation authorities. The developers even formed proposals with various layout options for passenger compartments, which should satisfy the wishes of potential customers.