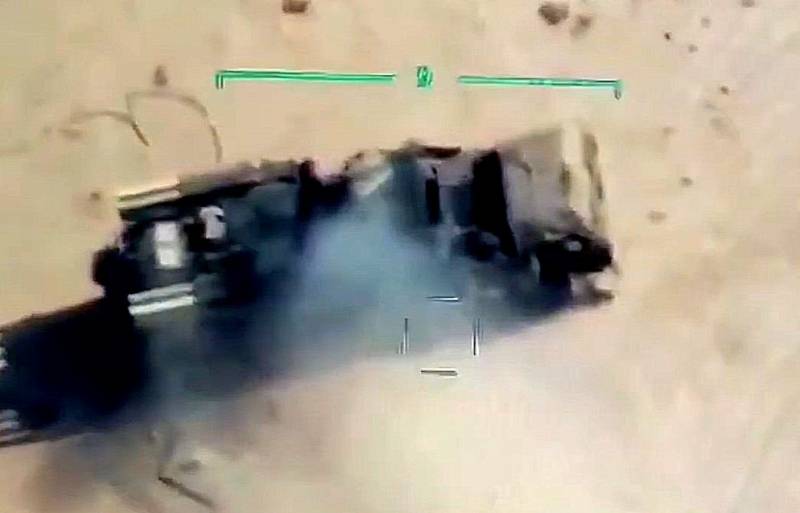 On May 20, 2020, Turkish drones fighting on the side of the Government of National Accord (PNS) in Libya destroyed two Pantsir-C1 air defense missile systems of the Libyan National Army (LNA) Field Marshal Khalifa Haftar, recently brought by his allies from the United Arab Emirates (UAE). The first ZRPK was hit while moving along the road, and the second - during the extension to the firing position.
Frames in which at least the incapacitation of the two mentioned air defense systems is documented are already available on the Web. It should be noted that the Bayraktar TB2 UAV, and possibly Anka-S, conduct a targeted hunt for air defense systems of Field Marshal Haftar. The Turks are trying to deprive the LNA of protection from an air attack so that the PNS gets an advantage in the war.
Thus, in recent days, the LNA has definitely lost five units of the Pantsir-C1 air defense system. And that's not counting the many
stuffing
that are difficult to consider reliable information. The expert community believes that the Turks began to actively use powerful electronic warfare systems, which greatly impede the operation of enemy radar and allow UAVs to move freely in Libyan airspace.
In addition, it is likely that the Turks began to use high-precision SOM cruise missiles (with a warhead weighing 230 kg) for the destruction of protected objects (shelters) of the flare aircraft, launching them from their F-16s over the Mediterranean Sea. It is no secret that before this, the Turkish Air Force rehearsed attacks on the territory of Libya using reconnaissance aircraft and air tankers.