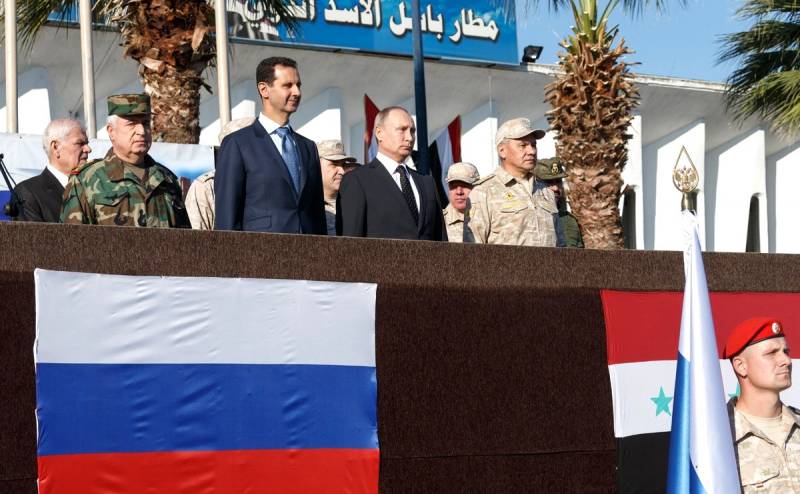 Public threats to Russian leader Vladimir Putin, voiced by supporters of the "Syrian regime," broadcast to Moscow a signal that the possible removal from power of President Bashar Assad will cause fierce resistance from his loyal supporters. This opinion is expressed by the Canadian expert on the Middle East Nizar Mohamad (Nizar Mohamad) on the website of the Turkish guest company TRT World.
The author recalls that back in mid-May, the parliamentarian of the "Syrian regime" Khaled Abbud published an article on Facebook in which he mentioned a number of warnings addressed to Russian President Vladimir Putin.
Furious because Russian media were allowed to criticize Syrian President Bashar al-Assad, Abboud retaliated by stating that Putin's increase in popularity in the Middle East was personally due to the Syrian leader.
We will turn the coast of Syria into tens of thousands of traps

- cautioning against "Assad's wrath", announced this
political
figure.
The author notes that just a few days later, three hundred Syrian politicians and "regime supporters" from all over the Arab world signed a sharp statement. These events point to yet another problem that Russia may face in Syria: radical fan worshipers of President Assad's tough line.
Putin's Syrian intervention was without a doubt a costly action in terms of military adventurism. In the first month of 2015, air strikes alone cost $ 4 million per day. In addition, Russian military casualties were high — so much so that Moscow resorted to replacing regular forces with the Wagner PMC mercenaries, a security contractor with close ties to the Kremlin. Thus, Moscow invested time and resources in Damascus, financial and military

- approved in the article.
It follows from this that the Russian Federation will probably not leave the country just like that, without providing guarantees of the return of its investments. It will proceed from the fact that some kind of stabilization can be achieved in Syria.
Since the start of the campaign, Russia has faced a huge number of problems. Its main ally, the Syrian army, overwhelmingly remains captive to incompetence and corruption. In addition, the Russian Federation dealt with Iran and the international network of Shiite militias.
Now Syrian supporters of the tough line pursued by President Assad have added another level of difficulty for the entire Russian campaign. Their public attacks on Putin, Mr. Mohamad believes, are an initiative almost certainly organized at the behest of senior representatives of the "regime." Loyalists angrily remind that even the very idea of ​​removing the Syrian president will cause fierce resistance from his irreconcilable supporters.
This group continues to pose a threat to Russian troops deployed in Syria, especially those concentrated along the Mediterranean Sea.
In light of this, it is not known how Putin plans to change the Syrian regime, which, it seems, cannot be reconstructed, states Mr. Mohamad.