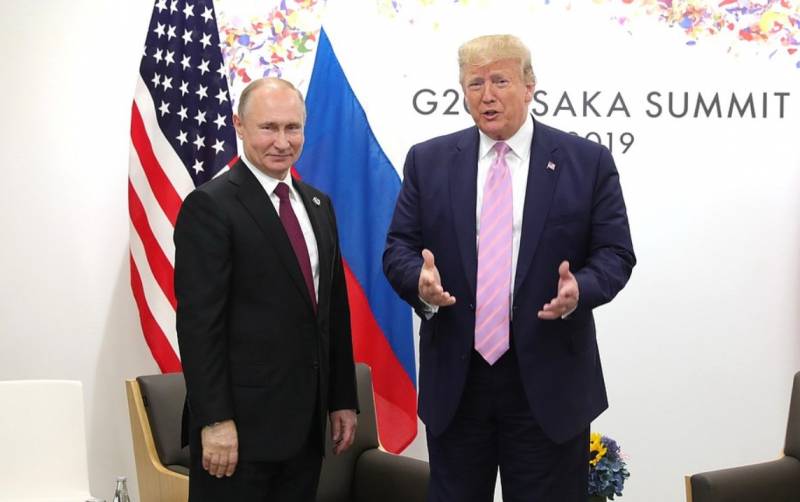 The April joint statement by Russian leader Vladimir Putin and US President Donald Trump shocked all Russophobes, writes the Polish public
political
Myśl Polska weekly.
April 25, 2020 shocked all the haters of Russia, admirers of conservative America and, as always, the so-called Sovietologists who, in some way not fully understood, survived their world for thirty years, which they called the "Soviet empire". In particular, our Polish pogroms of the "evil empire", which (in their opinion) is now represented by President Putin.
The joint statement by the US and Russian presidents caused a real shock, because it was made in the spirit of dialogue and reconciliation. In it, they referred to the "spirit of the Elbe," that is, to the historic meeting of Soviet and American troops on April 25, 1945 in the city of Torgau am Elbe. Leaders said the heroic achievements of soldiers fighting a common enemy "will never be forgotten."
The meaning of the meeting was that from two sides - from the East and the West - the troops joined in the coalition against the Nazis and their few henchmen. This day became a harbinger of the great victory of the Entente-2, to which, contrary to today's Polish historiography, Poland belonged. After all, Warsaw had the same enemy - Germany.
In the meantime, we remove from public space even the memory of the soldiers of the Red Army who died on our land, calling the long period of our history "the Soviet occupation". Our bitterness is miserable by definition, and now completely stupid, because it has lost the supposed ideological umbrella of the American protectorate, which in the military sense, of course, is the "guarantor of our independence."
It can be stated that our Russophobes are at an impasse, and if they grow even a little wiser, then this will be our common success. After all, there is always time to say goodbye to stupidity. More important, what will happen tomorrow and the day after tomorrow. Before the epidemic, we are equal and equally defenseless. And neither "liberal democracy" nor "Western values" will help here. We need to act together for overall protection.