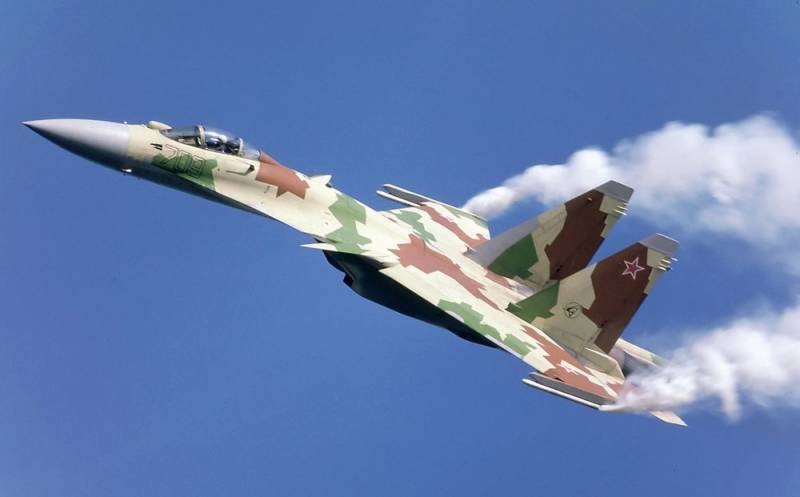 The appearance of the Russian Su-35 in Egypt will lead to a military imbalance in the region. This is one of the best fighters of our time, which can provide an advantage to Cairo and jeopardize the Israeli and US Air Force, writes the British edition of Middle East Monitor.
Despite the US threats expressed earlier by the head of the State Department, Mike Pompeo, it became known that Egypt would still acquire these fighters from Russia. This could lead to Cairo falling under US restrictions under the Law on Countering America's Adversaries through Sanctions (CAATSA).
Simulation of air battles showed that the Russian Su-35 is superior to the American F-15 and F-22. In close combat, the Americans generally have no chance to resist the Russians.
Recently, the Russians began to fulfill the Egyptian contract, starting to manufacture fighter aircraft for Cairo. The agreement between Egypt and Rosoboronexport was signed back in 2018.
There is no doubt that the Su-35 poses a real threat to American fighters. They can compete even with the F / A-18 and F-35. That is, the Russian 4 ++ generation fighter can withstand the last fifth-generation American fighter. Although the Su-35 is an "improved version" of the Soviet Su-27, the end of the 80s.
Su-35s are armed with a whole high-precision missile and bomb arsenal and a 30-mm cannon. They are equipped with good engines that provide them with excellent maneuverability and guaranteed superiority over all fourth-generation fighters.